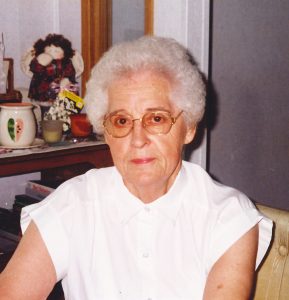 Mrs. Janet Louise (Craig) Bond, age 101 and four days, of Ripley County, Indiana, formerly of Patriot, Indiana, entered this life on November 16, 1921, in Gallatin County Kentucky, the loving daughter of the late Floyd and Mary Louise (McDanell) Craig. The family moved from Kentucky to Egypt Bottom in Switzerland County in February, 1938. Egypt Bottom remained her beloved home until she could no longer live independently. Janet was united in marriage on August 5, 1939 to the late Harry Bond in Ghent, Kentucky and together they farmed in the Egypt Bottom the area until his health no longer permitted and she then cared for him during a lengthy illness until his death in 1986. Three children blessed this union, H. Craig, Bobbie Sue, and Wayne. Tragically, Wayne, a Marine fighter pilot was killed in an aircraft accident in September, 1971. Janet was a graduate of Patriot High School and a member of Concord Community Church where she sang in the choir, served as Sunday School Superintendent, teacher, lay speaker, and elder. Janet was a Gold Star Mother and was a member of the Vevay American Legion Post #185 Ladies Auxiliary. Janet worked in the kitchen at Switzerland County High School beginning in 1972; retiring as head cook in 1988. She thought of the people she worked with as family and loved them dearly.
Quilting was a passion for many years and she made hundreds of quilted items; her quilts and wall hangings are treasures in the homes of family and friends. For several years Janet was the correspondent for Patriot news for the Vevay Newspaper. Janet was a devoted wife, loving mother and grandmother. She was a wonderful cook and talented seamstress. She would be happy to be remembered as a good friend and neighbor. Though she was no longer farming, she was always concerned in Spring that her neighbors were getting their crops planted and anxiously watched them in the Fall until harvest was completed. Janet passed away at 10:25 p.m., Sunday, November 20, 2022, at Ripley Crossing Nursing Home in Milan Indiana.
Janet is survived by her son, Craig Bond; daughter, Bobbie Patrick; grandchildren, Scott Ray, Jerod Bond, Andrea Ray, and Jon Bond. She also leaves great-grandchildren, Jason Bond, Austin Weimer, Ethan Weimer, and her sister, Lorraine Raisor, of Wapakoneta Ohio, as well as numerous nieces, nephews and cousins.
She was preceded in death by her parents, Floyd and Mary Louise (McDanell) Craig; her husband, Harry Bond; her son, Capt. Wayne Bond; her brother, Vachel Craig; her sister, Eva Mae Minger and her daughter-in-law, Linda Carol Bond.
Visitation will be held from 11:00 a.m. – 1:00 p.m., Monday, November 28, 2022, at the Haskell & Morrison Funeral Home, 208 Ferry Street, Vevay, Indiana 47043.
Funeral services will be conducted at 1:00 p.m., Monday, November 28, 2022, by Rev. Mike Jones, at the Haskell & Morrison Funeral Home, 208 Ferry Street, Vevay, Indiana 47043.
Interment will follow in the Eastview Cemetery, Patriot, Indiana.
Memorial contributions may be made to the Bond Family Community Fund c/o CFSCI, Eastview Cemetery or Charity of the Donor's Choice. Cards are available at the funeral home or online at www.haskellandmorrison.com