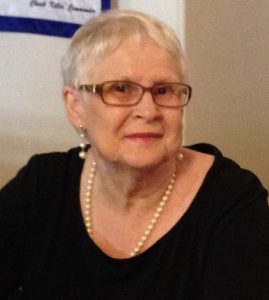 Charol Dena Andres Fuernstein (nee Gutapfel) passed away on Wednesday, Oct 19, 2022 at the age of 82 at the University of Cincinnati Medical Center, after suffering multiple complicated medical conditions.
Charol was born to Harold and Edna Gutapfel on their family farm in Lawrenceville, Indiana on November 5, 1939. She was the youngest of three children.
She was a lifelong member of the St. John's Lutheran Church at Hubbells Corner, having been baptized, confirmed, and married in her beloved church.
She attended Sunman High School, where she made many dear friends with whom she continued to visit and have long conversations until the time of her death.
Charol lost her mother at the tender age of 19, after which she found her future husband, Joseph Louis Andres, and was married on May 28, 1960. She moved into the Andres family home in St. Leon, Indiana,
raised five children together with Joseph, and enjoyed 24 years of marriage until his untimely death on November 14, 1984. Charol later married Howard "Buddy" Fuernstein on June 25th, 1989. She was
fortunate to spend eight wonderful years with Buddy, sharing precious moments together, traveling around throughout the midwest to their favorite country music venues like the Grand Ole Opry and the
Grand Country Music Hall in Branson, Missouri, and made a few trips to California to visit relatives. She enjoyed her time at home with Buddy, listening to the country crooners of the 1950's, watching television,
cooking, and lovingly caring for him until his death on August 21, 1997.
Charol was a homemaker, but also was employed briefly at the Harrison Shoe Factory in the 1970's, followed by 16 years as a cook/baker at East Central High School for the Sunman-Dearborn School
Corporation. She loved to bake and took great pride in her work and duties, feeding the thousands of students who often returned to her food line for second helpings of her delicious baked goods. No one left
her home without taking a bag of her delicious chocolate chip cookies. While raising her family, she was an avid gardener, planting fields and orchards, each summer canning or freezing hundreds of jars and
containers of fruits, vegetables, and meat from the family farm for the long winters.
In her later years she enjoyed shopping and coloring, filling pages with vibrantly colored flowers, often providing her completed creations as gifts to friends and family members.
She was intensely proud of her grandchildren and their achievements, enjoying their company immensely, cooking for them, visiting and talking with them on the phone.
Charol will be deeply missed by her brother, Ken Gutapfel, her sister-in-law Nancy Gutapfel, her children Cynthia (Daniel) Ullmann of South San Francisco, CA, Susan Mendel of Sunman, IN, Steve (Christie)
Andres of St. Peters, IN, Catherine Kissel of Batesville, IN, her daughter-in-law Melissa Andres of St. Leon, IN, her 10 grandchildren, Ian and Adam Ullmann, Kari and Kasey Andres, Tyler and Paige Mendel,
Josie, Anna and Allie Andres, Christopher Kissel, and many cousins, nieces, nephews, and friends. She is preceded in death by her parents, Harold and Edna Gutapfel, her husband Joseph Andres, her
husband Howard "Buddy" Fuernstein, her sister Viola Klein, and her beloved son Tim Andres.
Visitation for Charol will be on Sunday, October 23, 2022 from 3:00 pm to 4:30 pm at St. John's Lutheran Church at Hubbells Corner, 12523 North Dearborn Road, Sunman, Indiana, 47041. Funeral services begin at 4:30, with burial services at graveside to follow.
Memorials for Charol can be made to St. John's Lutheran Church and/or the St. Leon Fire Department. Donations can be accepted at the visitation or mailed to Andres-Wuestefeld Funeral Home at 25615 State
Route 1, Guilford, IN 47022. Please visit www.andres-wuestefeldfh.com to sign the online guest book and offer condolences.