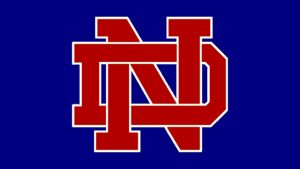 The Lady Chargers Varsity Volleyball team ended their regular season Thursday evening with a BIG win over Union County! That win brought the team's record to 25-4! Congrats to the girls for a great regular season and great way to set the tone for tournament time.
Thursday's game kept everyone on their toes and the energy in the gym was high. The Chargers played aggressive and with intensity and mental toughness. The whole team stepped up to the plate to contribute to a great win. On the offense, Caroline Stapp lead with 22 kills, Madelyn Bohman put away 15 kills, Sydney Rohls and Madi Allen added 11 kills each. Ella Kunz put away 5 kills and Sami Luttel added 3 kills. Luttel set up 56 assists on the night and served up 3 aces. Bohman, Aubrey Kennelly and Hannah Gorrell each contributed 1 ace and Bohman and Gorrell had no service errors. Defensively, Madelyn Bohman picked up 33 digs, Stapp grabbed 27 digs, Kennelly picked up 22, Luttel had 18 digs, Hannah Gorrell grabbed 12 and Allen picked up 5 digs. Sydney Rohls put up 2 solo blocks, and Allen, Bohman, Stapp and Kunz each added 1 solo block. Bohman received 39 serves, Kennelly received 30, Stapp received 21 and Gorrell received 15 serves.
The JV Lady Chargers fell to Union County in 3 (25-18, 10-25, 6-15). Gabi Adams put away 5 kills, Kelsey Haley added 3 kills, Ally Whitaker contributed 2 kills and Jo Whitaker, Brooke Mauer and Claire Kinker each had 1 kill. Kinker set up 8 assists and served up 1 ace. Kelsey Haley also added 1 ace. Haley picked up 11 digs, Kinker grabbed 7 digs, Ally Whitaker and Oakley Freely eached picked up 5 digs. Kendall Hostkoetter grabbed 4 digs and Anna Mauer and Alessandra Brancadora picked up 2 digs each.
Sectionals starts next week and will be held at Hauser. The first game for the Chargers is scheduled for Thursday, Oct. 13th at 6pm vs. Hauser. Come cheer on your Lady Chargers!
Submitted by the school's athletic department.