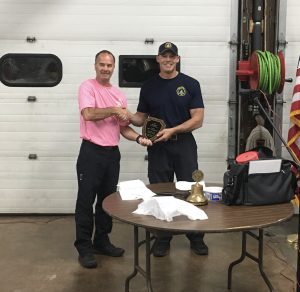 Greensburg, IN — The Greensburg Optimist Club awarded the 2022 Firefighter of the Year award to longtime City of Greensburg firefighter Chris Springmeyer during the organization's meeting Thursday morning at the city's Ireland Street fire station.
Springmeyer joined the fire service as a volunteer in 1992 and became a career firefighter in 1996. He was joined at the ceremony by his wife Denise and son Brantley. Springmeyer's daughter Bailey is attending college out of town.
The 30-year firefighter received a plaque, which was presented by Greensburg Assistant Fire Chief and Optimist Club Firefighter of the Year committee chairman Brian Wenning.
This is the 26th year the Greensburg Optimist Club has been handed out its Firefighter of the Year award. Below are past recipients:
1996 Don Minning, Greensburg
1997 Carl Geis, Clarksburg
1998 Ken Ramer, Greensburg
1999 Brian Wenning, Greensburg
2000 David Israel, Burney
2001 All Decatur County Fire Chiefs/Firefighters
2002 Mike Gasper, Westport
2003 Rand Hooten, Burney
2004 Scott Chasteen, Greensburg
2005 Bert Baltus (posthumously), Letts
2006 Bill Smith, Clarksburg
2007 Gary Wolford, New Point
2008 Andy Witkemper, Millhousen
2009 Jay Mattox, Westport
2010 Rick Bullard, St. Paul
2011 All Decatur County Fire Chiefs/Firefighters
2012 Rick Emsweller, Greensburg
2013 Brad Speer, Clarksburg
2014 Steve Garrett, Greensburg
2015 Randy Carson, Westport
2016 Carl Geis, Clarksburg
2017 Byron Baltus, Letts
2018 Rick Johnson, Clarksburg
2019 Randy & Marilyn Hoeing, Greensburg
2020 Matt Stone, Millhousen
2021 All Decatur County Fire Chiefs/Firefighters