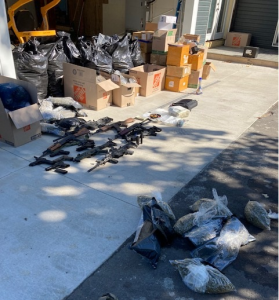 Connersville, IN — Three people are in the Fayette County Jail after $4.5 million dollars in drugs were found at a home on State Road 1 in Connersville on Wednesday.
Indiana State Police troopers seized over 300 pounds of marijuana, more than 30 pounds of THC wax, over 14,000 THC vape cartridges, several hundred marijuana cigars, and numerous edible items, including "medicated" chips and candies.
Along with the drugs, numerous assault rifles, several pistols, one fake suppressor as well as two baffled suppressors were seized.
A GMC Denali and US currency in excess of $100,000 dollars were also confiscated.
ISP says a toddler was in the home at the time of the raid and was placed with the Department of Child Services.
Those arrested and facing preliminary charges are: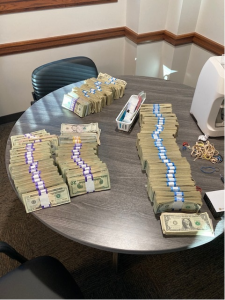 25-year-old Tristen Sweney and 23-year-old Nokomus Nicholson, both of Connersville- Dealing in Marijuana over 10 pounds, Felony Possession of Marijuana over 10 pounds, and Maintaining a Common Nuisance (all Level 6 felonies); and 24-year-old Michael Hockersmith, also of Connersville – Visiting a Common Nuisance (a Class B misdemeanor).
State police say the drug bust took place following a lengthy investigation by troopers from the Pendleton Post and detectives from the ISP Drug Enforcement Section.