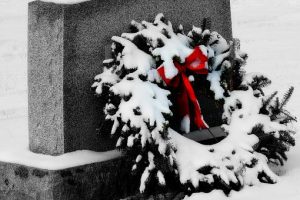 Ripley County, IN — The Ripley County Community Foundation (RCCF) has embarked on a local version of Wreaths Across America.
Executive Director Amy Streator says the goal of Wreaths Across Ripley County is to honor the fallen and those who have served, and their families and to teach the next generation the value of freedom.
RCCF is raising funds to place wreaths on local veterans' headstones on National Wreaths Across America Day, which is December 17.
Streator says they believe there are around 3,800 veterans' graves in 56 cemeteries throughout the county, and that it will take about $60,000 to reach their goal.
To contribute or to find out more about the initiative, call the community foundation at (812) 933-1098 or visit RCCFonline.org.
As of Wednesday morning, just over $3,000 had been raised.