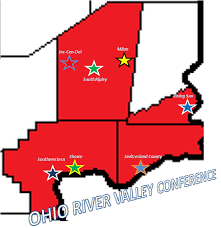 Congratulations to the Milan Indians on their 2022 ORVC Boys Cross Country Championship – the program's first since 1985.
Also, congratulations to the Southwestern Lady Rebels on their 2022 ORVC Girls Cross Country Championship, and congrats to the Switzerland County Pacers on their 2022 ORVC Boys and Girls Soccer Championships
There's one week to go in the Volleyball regular season. The conference title is still up for grabs.
Congratulations to the following athletes from our coverage area schools who were named ORVC Athletes of the Week:
Ellie Lauber, South Ripley, Volleyball
Mariah Brison, South Ripley, Girls Soccer
Please click here for the ORVC Report for September 26-October 1.
(Our thanks to Conference Recorder Travis Calvert for the report)