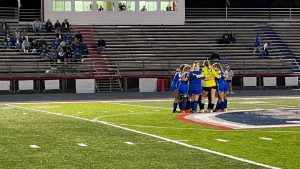 Lady Pirates Fall to Tigers In First Round Sectional 10-0
Greensburg traveled to South Dearborn to meet the Lawrenceburg Tigers for their first-round sectional matchup. Lawrenceburg started quickly putting two points up in the first seven minutes. At the half, the score was 8-0, Tigers.
The second half would be the same. Lawrenceburg scored two more points in the first five minutes of the second half. This would make the score 10-0 and the game would end with 20 minutes still on the clock.
The Lady Pirates would like to thank all the parents and supporters for their continued support throughout the season. The team enjoyed every snack, drink, team dinner, and cheer you provided. Thank you for everything!
The Lady Pirates' season ended 5-10 for the season and 1-6 in the conference.
Submitted by the school's athletic department.