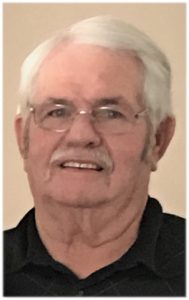 Kenneth "Kenny" Rodger Arkenberg passed away at the age of 75 at his residence with his loving family by his side on Monday, October 3, 2022. Kenny was born on Sunday, May 18, 1947 in Milan, Indiana, son of Franklin and Rosana (Nee: Fischmer) Arkenberg. Kenny married his loving wife, Rosea Powell, on February 14, 1970. Kenny worked for Seagrams for 39 years as a still operator. He was a member of the Masonic Lodge F & AM #603 of Osgood, men's golf league at the Milan golf course, and UFCW. He loved golfing, traveling with his friends Cas and Carol Caswell, and watching sports. He enjoyed watching the Bengals but was an avid Purdue fan. He coached little league baseball, girls' softball, and pee-wee football. His greatest passion in life was spending time with his family, especially his grandchildren.
Kenny will be missed by his wife, Rosea Arkenberg, of 52 years of Milan; son Erik Arkenberg (Jamie) of Union, Kentucky; daughter Kerri Volz (Matt) of Milan; brother Frank Arkenberg (Becky) of Milan; three grandchildren Alexa Rose Arkenberg, Adam Volz, and Emily Rose Volz; and many nieces and nephews.
Kenny was preceded in death by his parents, and nephew Kurt Arkenberg.
Family and friends may gather in remembering Kenny from 1:00 – 3:00pm Saturday, October 8, 2022 at Laws-Carr-Moore Funeral Home in Milan. A masonic service will be held at 2:45pm provided by the Osgood Masonic Lodge F & AM #603. A Celebration of Life Service will immediately follow at 3:00pm with Pastor Mike Cantrell officiating. Memorials may be given in honor of Kenny to Milan Dollars for Scholars, Milan Fire Department, or Loving Hearts Hospice.
Laws-Carr-Moore Funeral Home has been entrusted with arrangements, 707 S Main Street, Box 243, Milan, IN 47031, (812)654-2141. Please visit our website at www.lawscarrmoore.com to share your condolences and memories of Kenny.