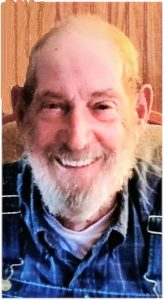 James Donald "Don" LaFollette of Manchester passed away at the age of 89 at St. Elizabeth Dearborn in Lawrenceburg on Monday, October 3, 2022. Don was born on Tuesday, September 5, 1933 in Wrights Corner, Dearborn County, Indiana, son of Homer and Pearl (Nee: Dunlap) LaFollette. Don married the love of his life, Eloise Lattire, on October 18, 1958. Don proudly served our country in the U.S. Air Force. He was a member of the Zion Lutheran Church in Manchester, the Zion Brotherhood, and one of the original members of the Manchester Fire Department. Don retired from I & M (AEP) as a lineman and an electrician at the Tanner's Creek Station. He could often be found outdoors, whether he was farming, splitting wood, gardening, cattle watching, coon hunting, or being at the Dearborn County 4-H fair. He enjoyed sports, especially watching the Reds, Nascar, or IU basketball. Don's greatest passion in life was spending time with his family.
Don will be missed by his loving wife Eloise of 63 years of Manchester; son Randy LaFollette (Rhea) of Aurora; daughters LeAnn Fox (Daryl) of Guilford and Trish LaFollette of Lawrenceburg; brother-in-law Richard Lattire; grandchildren Randa, Daniel, Rob, A.J., and Hayden and great-grandchildren Josie, Cooper, Charleigh, Carter, and Jaxon.
Don was preceded in death by his parents, Homer and Pearl LaFollette, and his siblings, LaVern LaFollette, Gene LaFollette and Ruth Fox.
Family and friends may gather in remembering Don from 11:00am – 1:00pm Saturday, October 8, 2022 at Zion Lutheran Church, 10629 IN-48, Sunman, IN 47041. A service will immediately follow at 1:00pm with Rev. Susan Socha officiating. Burial will take place in Zion Lutheran Cemetery. Memorials may be given in honor of Don to the Dearborn County 4-H, Zion Lutheran Church, or donor's choice.
Sibbett-Moore Funeral Home has been entrusted with arrangements, 16717 Manchester Street, Box 156, Moores Hill, IN 47032, (812) 744-3280. Please visit our website at www.sibbettmoore.com to share your condolences and memories of Don.