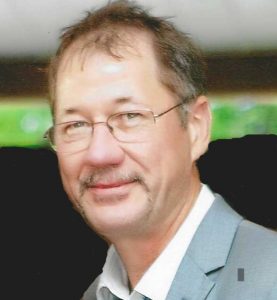 Christopher Allen Beagle, 62, Greensburg, passed away with his family by his side on Tuesday, October 4, 2022, at the Heritage House in Greensburg.
Born, July 4, 1960, in Greensburg, he was the son of Ray and Jeanie (Duffey) Beagle.
Chris was a lifetime Greensburg resident.  He graduated from GCHS in 1979.  He was involved in football and wrestling while in school.
Being born on the 4th of July, Chris was always very proud of the Red, White, and Blue.  He always admired any serviceman or veteran.
Chris's family has mourned his memory loss for the past 7 years.  Chris suffered from Frontotemporal dementia.  Although he will be sadly missed, "Our Chris" has been gone for a long time.
Chris was a lifelong member of St. Mary's Catholic Church.  He played on the Anderson Diesel men's softball team for many years. He traveled to Canada with the team and played in a couple tournaments there. Chris became a meatcutter and started at the Ranch Supermarket, then worked at IGA, and finally worked for 12 years for O'Mara Foods in Greensburg.  Chris worked many overtime hours and gave all he had to make sure his family was cared for.
Chris loved hunting and fishing.  He had a basement full of deer and fish mounts to show for it.  He was also a huge IU, Bengals, and Reds fan.  Chris attended over 40 Indianapolis 500's.
Chris married Suzanne "Suzie" Lux on June 30, 1984 and she survives.
He is also survived by his children; Emily (Jeff) Bruns, Batesville, Greg Beagle, Greensburg; grandchildren, Clayton and Luke Bruns; brother, Rick (Sherry) Beagle, Greensburg; sisters, Karen (Rick) Meyer, Greensburg, Kathy (Mark) Porter, Greensburg.
He was preceded in death by his parents and father in law, Jack Lux.
Family and friends will gather at 3:30 p.m. on Thursday, October 6, 2022, at Porter-Oliger-Pearson Funeral Home in Greensburg to pray the rosary.  Visitation will follow until 7:00 p.m. The family will also receive friends from 9:00 – 9:45 a.m. on Friday, October 7, 2022, with the funeral Mass to follow at 10:00 a.m. at the St. Mary Catholic Church in Greensburg with Rev. John Meyer officiating. Interment will be held in the St. Mary's Catholic Cemetery.
Memorial contributions may be made to "St. Mary's Catholic School Athletics Department", the "Luke Edward O'Mara Foundation", or "Tree City Firearms Academy". Online condolences can be made to the family at www.popfuneralhome.com