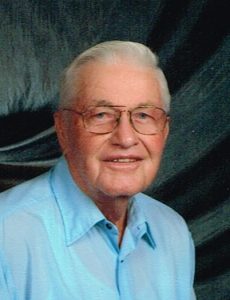 Carl W. Veerkamp, 85, Greensburg, passed away on Saturday, October 1, 2022, at his residence.
Born, February 14, 1937, in Decatur County, Indiana, he was the son of John J. and Hilda M. (Hardebeck) Veerkamp.
Carl retired from Contel Telephone Co. after 28 years of service.  He started a Christmas tree farm for his retirement.  Carl enjoyed hunting, fishing, and tending to his cattle, but most of all he enjoyed spending time with his family.  He was a member of St. Mary Catholic Church.
Carl married Mary Ellen Dwenger on September 23, 1958, and she preceded him in death on July 30, 2000.
He is survived by five children; Carl J. (Bonnie) Veerkamp, Shirley Becker, Karen (Roger) Koors, Robert Veerkamp, Ronald (Angeline) Veerkamp; eleven grandchildren, Ben (Toni) Becker, Zach Becker, Katie Becker, Craig (Holly) Koors, Bobby (Jenny) Koors, Jennifer (Dan) Riley, Kristen (Mike) Krieger, Grant Veerkamp, Vanessa Veerkamp, Tyler Veerkamp, Kyle (Randi) Veerkamp; twelve great grandchildren, Daxton and Tinley Becker, William, Nathan, Lydia, Josie, Georgia, Andrew, and Miles Koors, Ellie & Lyla Krieger, Ross Veerkamp.
He was preceded in death by his parents, wife; grandson, Alex Veerkamp; sister, Marjorie Johannigman; Brother, John B. Veerkamp; son in law, Jay Becker.
Family and friends will gather at 3:30 p.m. on Wednesday, October 5, 2022, at Porter-Oliger-Pearson Funeral Home in Greensburg to pray the rosary.  Visitation will follow until 7:00 p.m. The family will also receive friends from 9:00 – 9:45 a.m. on Thursday, October 6, 2022, with the funeral Mass to follow at 10:00 a.m. at the St. Mary Catholic Church in Greensburg with Rev. John Meyer officiating. Interment will be held in the St. Mary's Catholic Cemetery.
Memorial contributions may be made to the Alzheimer's Association or to St. Mary's Catholic School. Online condolences can be made to the family at www.popfuneralhome.com