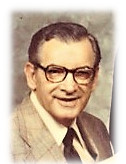 William O. Rutherford, 96, of Richmond passed away on Wednesday, September 21, 2022, at Ambassador Healthcare in Centerville after a short illness. He was born on Saturday, June 5, 1926, in Sturgis, Kentucky to Wallace and Mabel Burton Rutherford and lived here most of his life.
William graduated from the Corcoran School of Art and Design and retired as a commercial artist after working for Wayne Corporation. He was an Army veteran of World War II and received the Bronze Star. He enjoyed fishing and after retirement worked at Middlefork Reservoir. He was a member of Lifestream Church and the Kirk Little VFW Post #1108.
Survivors include two children, Mark (Karen) Rutherford of Milan and Sandra Romack of Richmond; five grandchildren: Angela (Erik) Linde, Jessica (Andy) Cox, Chad Romack, Matt Rutherford, and Lindsay (John) Eshcoff; nine great-grandchildren; brother Joe (Charlotte) Rutherford; sisters-in-law Ann Rutherford and Jennie James; many nieces and nephews; and special friends Fanny and Bob Marshal.
His wife of 75 years Catherine passed away on November 18, 2021. He is also preceded in death by his brother Ken Rutherford, son-in-law George Romack, and sisters-in-law Juanita Potter and Jane Cannon.
A graveside service will be held at 11:00am Wednesday, October 12, 2022 at New Cravens Cemetery, 6930 E County Road 200 N, Milan, IN 47031, with full military rites provided by the Milan American Legion Post #235.
Laws-Carr-Moore Funeral Home has been entrusted with arrangements, Box 243, Milan, IN 47031, (812) 654-2141. Please visit our website at www.lawscarrmoore.com to share your condolences and memories of William.