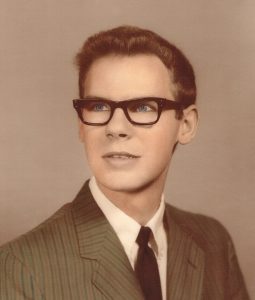 William I Stone, Jr (76yo) was born August 14, 1946 to William I Sr and Helen (Reisman) Stone. He died September 28, 2022 surrounded by his family. Bill was loved and admired by many. He was a devout member of Immaculate Conception Parish in Millhousen, Indiana. He attended St Meinrad College earning degrees in Theology and Philosophy. He later enlisted in the US Army and reported for Basic Training at Fort Knox. After excelling at the entry aptitude exam, he was transferred to Fort Bliss, Texas where he spent his remaining years of service devoted to the Nike Hercules Air Defense Missile Defense System. Once Honorably Discharged from the US Army, he spent his civilian career working in many different engineering positions with multiple corporations, namely Ford Motor Company.
Bill enjoyed spending time with his brothers restoring muscle cars, mainly Fords. He was devoted to his family and friends, sharing his time and talents solving problems, building homes, perfecting pine-wood derby cars, and fixing anything mechanical. He excelled at electronics and computer technology. Bill was a wealth of knowledge with varied interests and a resource for all his family and friends.
He was preceded in death by his parents; sister, Sandy; brother, Gary; and sister-in-law, Shelia. He is survived by his siblings: Toni (Darol) Collins, Cindy (Don) Mauer, Jean Treadway, Steve Stone, David (Cindy) Stone, Ken (Gretchen) Stone, Tim (Kim) Stone, Rita (Kenny) Peters, Julie (Steve) Gilland; 27 nieces and nephews; 51 great-nieces and nephews; 8 great-great nieces and nephews; and countless friends.
Family and friends will gather at 3:30 p.m. on Tuesday, October 4, 2022,  at Porter-Oliger-Pearson Funeral Home in Greensburg to pray the rosary.   Visitation will follow until 7:00 p.m. The family will also receive friends from 10:00 – 10:45 a.m. on Wednesday, October 5, 2022 with the funeral Mass to follow at 11:00 a.m. at the Immaculate Conception Catholic Church in Millhousen with Rev. John Meyer officiating. Interment with full military graveside honors will be held in the Immaculate Conception Catholic Cemetery in Millhousen.
Memorial contributions may be made to the Stone Family Memorial Fund via Decatur County Community Foundation, American Diabetes Association, American Heart Association, or the donor's choice.
Online condolences can be made to the family at www.popfuneralhome.com