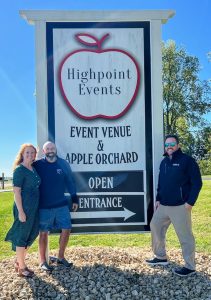 Greensburg, IN — Rowles Event Services, in partnership with Russ Hubler Automotive Group, has purchased and will operate Highpoint Events Centre in Greensburg.
Established in 2005 as an apple orchard, Highpoint Events Centre went through a complete remodel in 2019 and has become one of the area's top wedding and event venues.
The property boasts a 15-acre estate featuring two indoor event facilities, multiple outdoor locations, an active apple orchard, sunflower gardens, a pumpkin patch, an 1858-built homestead, and views overlooking a 45-acre reservoir.
"We are ecstatic to be a part of the Greensburg community! With a deep-rooted love of celebrations and events, the acquisition of Highpoint Events Centre allows our family to share this amazing property with our neighbors in Decatur County and visitors from throughout the state," said Eric and Alyssa Rowles. "Combining this beautiful setting with all the creative décor and activation assets Rowles Event Services brings with it allows us to provide each and every client with that 'one-of-a-kind' wedding or event experience."
The Rowles are the husband and wife team overseeing daily operations.
Eric Rowles is a 22-year event professional and Central Indiana native. Before founding Rowles Event Services, he spent nearly 10 years as Vice President of Operations for the 500 Festival.
Alyssa Rowles worked in the banking industry before taking time off to raise a family. She now serves in a leadership role with the Hope Elementary School PTO.
Russ Hubler took ownership earlier this year of the former Don Meyer Ford dealership on Lincoln Street in Greensburg.
"Since joining the Greensburg community with our Ford store earlier this year, my family and I have fallen in love with the people we get to serve daily," Hubler said. "When the opportunity came up to play a role in securing the future of Highpoint Events Centre, I was thrilled to be a part of it. Just about every member of my team has either gotten married, been to a wedding, or enjoyed an event at this beautiful property and now we get to play a part in future celebrations!"