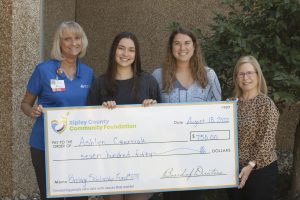 Ripley County, IN — Ashlyn Czerniak is the recipient of the 2022 Doris A. Brelage Nursing Scholarship.
To qualify for the scholarship, which is administered by the Ripley County Community Foundation, students must be a Batesville High School graduate or be nominated by a practicing nurse at Margaret Mary Health, be accepted into a nursing school, and demonstrate dedication to both academics and community service.
The scholarship was established by the family and friends of Doris Brelage after her death.
Mrs. Brelege was a registered nurse and EMS member and spent 37 years at Margaret Mary Health as Director of Nursing, Head of Surgical Nursing, and Director of Infection Control.
"Doris was a dedicated nurse, great friend, and mentor. I think she would be very proud to support Ashlyn in her nursing career," said Lisa Banks, RN.
"The Doris A. Brelage Scholarship is an example of how the Ripley County Community Foundation works to open the door to advanced education for non-traditional students and
connects local employers with qualified employees," said Amy Streator, Ripley County Community Foundation Executive Director.
To learn more about the Ripley County Community Foundation and how you can create your legacy, visit rccfonline.org.
The Ripley County Community Foundation is located at 13 E. George Streeet, Suite B in Batesville, and can be reached by telephone at (812) 933-1098 or by email at [email protected].