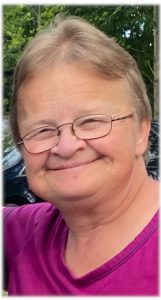 Susan Patricia Meeker passed away at the age of 58 at Margaret Mary Health in Batesville on Saturday, September 24, 2022. Susan was born on Thursday, April 23, 1964 in Baltimore, Maryland, daughter of Sharon (nee Bishop) Prifogle. Susan attended the Hope Baptist Church of Dillsboro. She worked for The Reservation Restaurant in Milan as a dishwasher. Susan was Jackie Holt's helper with Jackie Lee karaoke for 25 years. She enjoyed puzzles, listening to music, dancing, singing, and attending Special Olympic events.
Susan will be greatly missed by her friend Jackie Holt of Milan, Indiana; brothers Billy Meeker of Martinsburg, West Virginia, Wilbert Meeker of Hancock, Maryland, and Michael Meeker of Dundalk, Maryland; sisters Pauline Ellis (Tom) of Curtis Bay, Maryland, and Shannon Hayes (Ronald) of Sunman, Indiana, along with numerous karaoke friends.
Susan was preceded in death by her mother Sharon Prifogle.
Family and friends may gather in remembering Susan from 1:00 – 2:00pm on Sunday, October 9, 2022 at the home of Jackie Holt, 515 S County Road 525 E, Milan, IN 47031. A Celebration of Life service will immediately follow at 2:00 PM with Pastor Tom Holt officiating. Memorials may be given in honor of Susan to the American Cancer Society.
Laws-Carr-Moore Funeral Home has been entrusted with arrangements, Box 243, Milan, IN 47031, (812) 654-2141. Please visit our website at www.lawscarrmoore.com to share your condolences and memories of Susan.