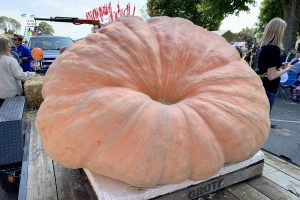 Versailles, IN — A new record was set on Saturday during the Versailles Pumpkin Show Giant Pumpkin Weigh-In.
Brandon Fisk of Brookville had the biggest pumpkin at 1,709.5 pounds – shattering the previous record by 600 pounds.
Jim Gunther from Corydon had the 2nd place pumpkin at 1,101 pounds, while Lynn Hulse from North Vernon came in 3rd with a pumpkin weighing 792.5 pounds.
In the kids' class, Lily Welch of Versailles finished first with a pumpkin weighing in at 481 pounds, while Allen Welch, also of Versailles, was second at 433.5 pounds.
The 119th Versailles Pumpkin Show ended Sunday.