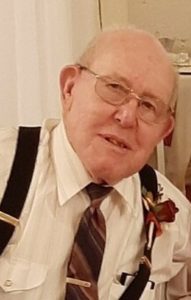 Jack Eugene Brewsaugh, age 89, of Greensburg passed away on September 23, 2022 at the St. Francis Hospital in Indianapolis.
Jack was born on August 27, 1933 in Decatur County as the son of Orville and Lucille (Moulton) Brewsaugh.
Jack attended Sandusky High School. During his high school years, he enjoyed playing basketball.
Jack was a self employed contractor and developer of Fairview Addition, also known as Brewsaugh Addition. He was a lifetime member of the Southeastern Indiana Home Builders Association.
He married Maureen Templeton on April 5, 1958 and she survives.
He is also survived by three daughters, Lynn Brewsaugh and Tara Domingo of Greensburg, and Christy Brewsaugh of Columbus; grandchildren, Joseph (Christa) Beesley, Knoxville, TN, Israel Beesley with great grandchild, Bailey of Morgantown, Kyra (Alex) Meyer with great grandchildren, Roman, Maxwell, and Renn Meyer, Greensburg, Ryne (Audrey) Domingo of Jacksonville, FL.
Also surviving are sisters Shirley (Dale) Schwering, Janice Johnston, Ruth Flack, and Sara Myers; sisters-in-law, Carolyn Brewsaugh and Darlene Brewsaugh.
He is preceded in death by his parents, his son, Mike Brewsaugh, and grandchild, Shane Satterfield; brothers, Richard Brewsaugh, Robert Brewsaugh, Don Brewsaugh, Roger Brewsaugh, Jerry Brewsaugh; sister-in-law, Barbara Brewsaugh; brothers-in-law, Dave Johnston and Greg Myers; nephews: Darren Francis, Eric Brewsaugh, and Kelsey Herbert.
According to his wishes he will be cremated and there will be no public services. Porter-Oliger-Pearson Funeral Home has been entrusted with the arrangements.
In lieu of flowers, memorial contributions can be made in Jack's honor to "Greensburg Decatur County Animal Shelter".