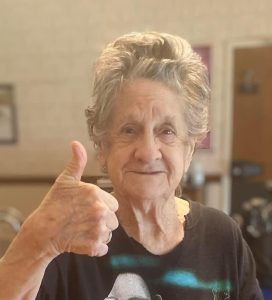 Dorothy L. "Dotty" McMurray, 84 Years, of Dillsboro, Indiana, formerly of Guilford and Aurora IN passed away Saturday, September 24th in Lawrenceburg, IN.
She was born September 7, 1938, in Eton, OH, daughter of the late Mary (Wingate) Lynn.
She worked as a Cashier for Walmart, retiring after over 14 years of service. She was a member of United Methodist Church of Aurora and the United Methodist Church of Guilford (Tanner Valley UMC) .
At the age of three she moved to Aurora where she later met and married her husband of 45 years, Eugene "Mick" McMurray. The ceremony took place at the United Methodist Church on April 9, 1956. Dotty and Mick moved to Guilford and raised their family there, where they owned their own store/gas station called Mick & Dotty's. Dotty had a big heart and would often help families when they were short on money for their groceries. Dotty and Mick did not hesitate to assist in any way that they could. In addition to owning a store, Dotty was particularly good with children and loved babysitting. She enjoyed bowling, singing in the church choir, and was an exceptionally talented quilter. One of her favorite pastimes was playing BINGO while socializing with her friends.
Dorothy is survived by her loving children, Cynthia "Cindy" (Michael) Dudley, Dennis "Hammer" (Teresa) McMurray, Kevin McMurray and Michael "Butch" (Kin) McMurray; grandchildren, 7; great-grandchildren, 3. She was preceded in death by her mother, Mary E. Lynn; husband of 45 years, Eugene "Mick" McMurray; twin siblings, Janet Sargent and James Lynn, brothers Cassius "Doc" Lynn, and John Lynn.
Friends will be received Thursday, September 29, 2022, 11:30 am – 2:00 pm at the Tanner Valley United Methodist Church, 19235 ST. Rt 1, Lawrenceburg, IN.
Services will be held at the Church, Thursday at 2:00 pm, following visitation.
Interment will follow in the Mt. Sinai Cemetery, Aurora, Indiana.
Contributions may be made to the Shady Nook Staff, Margaret Mary Hospice or American Cancer Society. If unable to attend services, please call the funeral home office at (812) 926-1450 and we will notify the family of your donation with a card.
Visit: www.rullmans.com