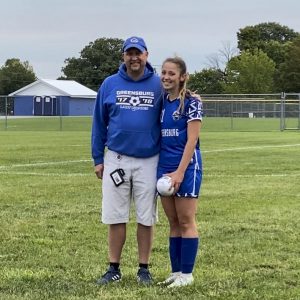 Senior Natalie Kalinowski Recognizes Mr. Mike Myers as Influential Faculty Mentor – Greensburg Falls to Lawrenceburg 9-0.
The matchup between Greensburg and Lawrenceburg started with one of Greensburg's Seniors recognizing an influential faculty member that made a difference in her life. Senior Natalie Kalinowski honored Mr. Mike Myers. Kalinowski stated, "Whenever I have a problem with school or soccer, you help me find a solution to my problem. Or if I just simply need to talk to someone you are there for me. I never thought that I would have a teacher who would impact my life in such a way. There aren't many teachers out there that do those types of things for their students and I am very thankful that I had the chance to have a teacher like you. I am forever thankful for everything you have done for me and you just simply being in my life."
As the Game started Lawrenceburg was quick on the attack. They were able to draw a PK from a foul in the box scoring the first points within the first three minutes. This was the first of seven in the first half. Taking the Pirates into the half down 7-0.
The second half was more of the same. Lawrenceburg scored 2 more points in the first four minutes. The game ended with 20 minutes still on the game clock and the score at 9-0.
Freshman Keeper Madeline Shrader saw 19 shots on goal allowing 7 to settle in the net. Freshman Keeper Emma Hostetler saw 5 shots on goal in the 20 minutes of the second half allowing 2.
This brings the Pirates to 6-5 for the season and 1-4 in the conference. The Pirates host South Dearborn on Tuesday (9/27) game time is 5:30 p.m.
Submitted by the school's athletic department.