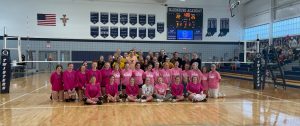 Oldenburg, IN — The Oldenburg Academy volleyball team's "Volley for Hope" at the Hillenbrand Family Feldhaus Thursday night vs. Milan is being called a huge success.
More than $1,600 was raised to benefit Noah Haessig and his family.
Haessig is a Milan High School graduate who was severely injured in a motorcycle wreck in March.
He is still in therapy and will require additional surgeries.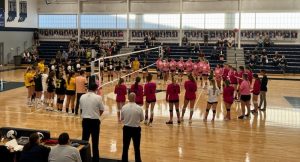 Money was raised through raffles and donations during the week and at Thursday night's matches.
"The Twisters would like to thank everyone who generously supported this effort in raising over $1600 for the family," said OA Volleyball Coach Debbie Gregg.
As for the action on the court, the Indians took the JV match in two sets.
Oldenburg won the varsity match in four sets, 25-13, 25-15, 18-25, 25-15.
Kate Weber had 10 kills, followed by Chloe Bohman and Rachel Suttman with 8 a piece for OA.
Caroline Jansing had 34 digs, while Weber and Kenlee Martin each recorded 18 assists for the Twisters.
OA improves to 9-6 on the year and will be back in action on Saturday at the Hauser Invitational.
(Our thanks to Oldenburg Academy Volleyball Coach Debbie Gregg for the information and photos used in this story)