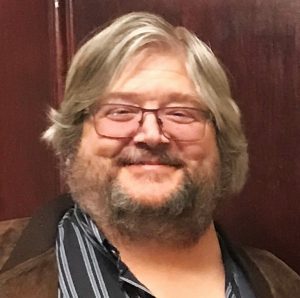 George Lee Griffith, Sr., 60, of Milford, Michigan, passed away at approximately 6 p.m. on Monday, September 19, 2022, at Ascension Providence Hospital in Novi, Michigan, after complications from long-term diabetes, heart disease, COPD, and an opportunistic Covid infection.
He was born February 28, 1962, in Anderson, Indiana, the son of Earl Newell Griffith II and Alice Maudine (Mize) Griffith. He became emancipated at 17 when his parents moved to Georgia, and he stayed in Anderson until he joined the military at age 19.
George enlisted in the US Army in 1981, attending basic training at Fort Knox, Kentucky; AIT at Fort Jackson, South Carolina; Airborne School at Fort Benning, Georgia; stationed at Fort Bliss in El Paso, Texas and Conn Barracks in Schweinfurt, Germany. He left active duty in 1984 upon returning home. He joined the active US Army Reserves in 1986 and remained part of the Individual Ready Reserves until 1993.
He married Christy Jo Bicknell in 1979, and they had children Michelle Lee and George "Bo" Lee Jr. before divorcing in 1983. He met the love of his life, Ruth Alice McCullough, while they were both serving overseas in Germany, despite having grown up 100 miles apart in Indiana. They married on March 19, 1984, in Greensburg, Indiana, and had children Amanda Ruth, Benjamin Earl, Carl James, and Daniel Alexander.
George was a devout Christian, who was raised Methodist and frequently attended Mass at the Catholic Church with his wife.
He is survived by his loving wife, Ruth Griffith; children, Michelle Cummings, George "Bo" Griffith Jr., Amanda (George) Browning, Benjamin Griffith, Carl Griffith, and Daniel (Tasia) Griffith; grandchildren, Dakota Cummings, Carrie Gasser, Katelyn (Doug) Reid, Gwendolyn (James) Gomez, Xavier Griffith, Amaris, Aarik, and Michael Browning, Nevaeh and Jordan Griffith, and Stormy and Dexter Griffith; four great-grandchildren; siblings James (Nancy) Griffith, Alice (Jim) Logue, Jessica Hutto; and numerous extended family members and friends.
He was preceded in death by his parents, Earl and Alice Griffith; siblings, Carolyn Griffith and Earl Griffith II; grandchild Gabriel Browning; nephew, Doug Griffith; and many aunts, uncles, cousins, and friends.
Viewing will begin with a Rosary at 3:30 p.m. and visitation will be from 4 to 7 p.m. on Tuesday, Sept. 27 at Gilliland Howe Funeral Home in Greensburg, Indiana. Funeral services begin at 10 a.m. on Wednesday, Sept. 28 at the funeral home, with visitation an hour before. Burial will immediately follow at Westport Cemetery, with a meal afterward at the Gilliland Howe banquet room.
Memorial contributions may be made to Alcoholics Anonymous. Fond memories anGd expressions of sympathy for the Griffith family may be shared at www.gilliland-howe.com.