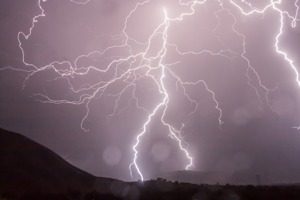 Southeastern IN — Heavy storms that rolled through Southeastern Indiana Wednesday evening left behind downed trees and power lines in some places.
Ripley County Communications reported a number of trees and power lines toppled by the storms, especially along US 50 from Holton into Versailles.
There were also reports of damage and power outages in parts of Decatur and Franklin counties.
The storms knocked out power to the stage at the Versailles Pumpkin Show last night. Heavy rains and lightning forced a 45-minute delay in the King and Queen contest, which resumed shortly after 8 pm inside the County Commissioners and Council room at the courthouse annex.