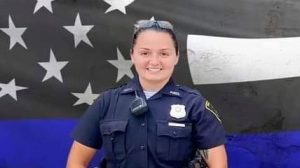 Richmond, IN — Funeral arrangements for fallen Richmond Police Officer Seara Burton have been finalized.
Visitation for Officer Burton will take place Sunday from 2-7 pm at the Richmond City Building.
Her funeral will be Monday at 11 am at Richmond High School's Tiernan Center, followed by a procession to Crown Hill Cemetery in Indianapolis.
Officer Burton died Sunday from injuries suffered when she was shot in the head during a traffic stop early last month.
The Richmond Police Department says the public is invited to attend the services and pay their respects.
Officers from Southeastern Indiana and areas surrounding Richmond and Wayne County are expected to attend the funeral.