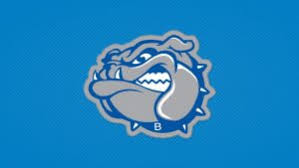 The 7th grade volleyball team finished their regular season with a win over Connersville 25-10, 25-6. Top servers were Madi Dierckman with 28 for 28 serving; earning 26 points with 12 aces. Jersey Trenkamp had 4 points with 1 ace. Payton Yorn and Marley Denning each had 2 points. Katie Wilhelm, Molly Gesell, & Leah Meyer each had a service point. From the front line Molly Gesell had 7 kills. While Jersey Trenkamp, Madi Dierckman, Jolene Dirkhising, Katie Wilhelm, Leah Meyer, & Ellie Walke all had a kill. Abby Miller, Cora Miller, Payton Yorn, and Isabel Meyer all had good passing in the back row. The team is 10-3.
From Shelly Prickel, BMS 8th Grade Coach:
The BMS 8th grade volleyball team played their final game on their home court vs. Connersville. The Lady Dogs came out on top by the scores 25-7; 25-
15. Caitlyn Fox scored 11 service points including 4 aces. Leigh Hertel was 10 for 10 with 7 points including an ace. Brooke Willhelm had 6 points with an ace. Ella Weber served 3 consecutive points to close out set 2, while Mimi Smith had 2 points and Lydia Huffmeyer earned 1 service point to round out the scoring.
Maddie Haskamp dominated at the net with 7 kills with great support from the team setters, Caitlyn Fox, 6 kills, and Brooke Wilhelm, 5 kills. Leigh Hertel notched 2 kills, while Katie Wirth and Madilyn Meyer each had 1. The team closes the regular season with a perfect 13-0 record. The teams will square off vs. South Ripley on Monday in the opening round of the SEI Tourney.
Submitted by the school's athletic department.