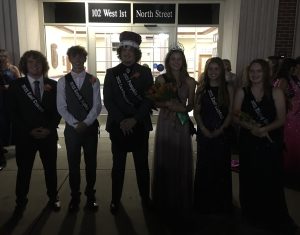 Versailles, IN — After a 45-minute delay caused by severe thunderstorms rolling through the area, royalty was crowned Wednesday on the opening night of the 119th Versailles Pumpkin Show.
Oldenburg Academy senior Avery Hammerle was named Queen and Colton Roth from Lawrenceburg High School was selected to reign as King.
The 1st runner-up in the King contest was Joseph Davis from South Ripley High School while the 2nd runner-up was Sam Bond representing East Central High School.
The 1st runner-up in the Queen contest was East Central's Jenna Hornbach while the 2nd runner-up was Ellie Ohlmansiek from Rising Sun High School.
The event began on the stage along the courthouse square but was halted because of high winds, heavy rain, and lightning that moved through the Versailles area.
The contest resumed shortly after 8 pm in the County Commissioners and County Council meeting room in the Ripley County government annex.
That portion of the contest can be viewed on Facebook at the "Versailles Indiana Lions Club" page.
Eleven Southeastern Indiana high schools were represented in Wednesday evening's King and Queen contest.
The Versailles Pumpkin Show runs through Sunday.
Please click here for a complete schedule of events.