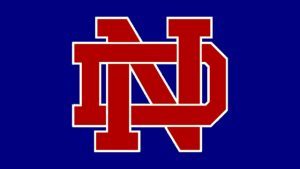 The ND Lady Chargers fell to Greensburg Pirates last night in 4 after an exciting battle. The Charger team played hard and with intensity but dug holes in the first 2 games and then came out strong to take game 3, then lost game 4. Our defense was on point for the evening; as a team we picked up 78 digs.
Congratulations to setter Sami Luttel on surpassing 2000 career assists! Us coaches and the whole team are proud of you!
Stats for the Greensburg game:
Sami Luttel: 40 assists, 8 digs
Madelyn Bohman: 20 digs, 12 kills
Caroline Stapp: 14 kills, 15 digs, 2 aces
Aubrey Kennelly: 18 digs, 3 aces
Hannah Gorrell: 17 digs
Ella Kunz: 9 kills, 2 blocks
Madi Allen: 10 kills, 3 blocks
Sydney Rohls: 2 blocks, 1 kill
JV Lady Chargers also fell to Greensburg, (13-25, 15-25).
Kelsey Haley: 4 kills, 2 aces, 7 digs
Claire Kinker: 4 digs
Alessandra Brancadora: 2 kills
Jo Whitaker: 1 kill, 8 digs
Brooke Mauer: 1 kill
Kendall Hostkoetter: 1 ace
Ally Whitaker: 2 aces, 6 digs
Submitted by the school's athletic department.