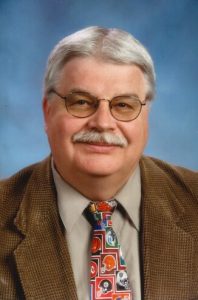 Mr. William "Darrell" Hansel, age 76, of Mt. Sterling, Indiana, entered this life on March 28, 1946 in Cincinnati, Ohio. He was the son of the late William B. and Ruth Carol (Harrell) Hansel. He was raised in Canal Fulton, Ohio and was a 1964 graduate of Northwest High School where he was on the football team. Darrell graduated in 1969 from Cumberland College in Williamsburg, Kentucky where he was on the wrestling team and received his minor in speech and a bachelor's degree in secondary education. Darrell was drafted into the United States Army First Cavalry Division (Airmobile) on April 9, 1969 in Cleveland, Ohio. He served in the Vietnam War and in Cambodia and received the Combat Infantry Badge, Vietnam Campaign Medal, Army Commendation Medal, Vietnam Service Medal, National Defense Service Medal, Air Medal with Oak Leaf Cluster and the Sharpshooter M14. Darrell was honorably discharged on January 8, 1971 at Fort Dix, New Jersey. He was transferred to the army reserves and was honorably discharged on April 8, 1975 with the rank of Sergeant. In 1971, Darrell was united in marriage to Stephanie Hope in Canal Fulton, Ohio. This happy union was blessed with two children, Donnie and Melinda. Darrell graduated from the University of Akron in business administration in 1972. The family moved to Vevay, Indiana in 1976 and purchased the Vevay Swiss Inn. In 1986, he received his master's degree in education administration and secondary education from Indiana University Southeast in New Albany, Indiana. Darrell was a former teacher and principal for the Switzerland County School Corporation from 1977-2007. He served as dean of students for the Switzerland County Middle School. He was a drama club sponsor for 10 years, the golf coach for 20 years, and 6 time ORVC Coach of the Year. Darrell was the principal for Jeff-Craig Elementary School- Four Star School. The school received a Blue Ribbon and Darrell traveled to Washington DC to accept the award. Darrell served as a Post Commander for the Vevay American Legion Post #185 and the Vevay VFW Post #5396. He also served as the 9th District Commander, Department Southern Vice Commander, Alternate National Executive Committeeman, National Executive Committeeman, and on various committees and offices at the Posts, State and National Levels. He was a member of the Southeast Indiana Chapter 71 of the Vietnam Veterans of America and the Dearborn County Voiture 612, 40&8. Darrell was a member of the Scottish Rite, NMJ, and Indiana Freemasons Florence Lodge #27. Darrell served as a President of the Vevay Kiwanis Club and also served as Chef de Gare of 40&8, Vietnam Veterans of America, Army, Navy, and the Air Force Veterans United States Chapter. He also served on the Vevay Town Board, President of CTA and served multiple terms on County Council. Darrell was the freshmen class sponsor for many years. Darrell also mentored student teachers at Indiana Wesleyan University and was also a university supervisor from 2007-2009. Darrell was honored with Sagamore of the Wabash, Indiana's highest citizen award in 2016. On March 22, 2005, Darrell was united in marriage to Sharon Rebecca Earls in Las Vegas, Nevada. In 2006, Darrell and Sharon built their retirement home in the Mt. Sterling community. Darrell loved to travel and he enjoyed visiting all 50 states throughout his lifetime. For many years, Darrell traveled with fellow legionnaire friends. Darrell and Sharon enjoyed cruises to many destinations over the years. He also enjoyed reading and his kindle was a constant companion. He enjoyed video poker, playing slots and visiting casinos. Darrell was recognized for his service as a judge for the 2020-2021 Department High School Oratorical Contest for the American Legion. Darrell was so proud of his involvement in the American Legion and advocating for veterans. Darrell served his community, the state and nation with dignity and pride. Darrell passed away on Wednesday, September 21, 2022, at his residence in Mt. Sterling, Indiana.
Darrell will be missed by his wife, Sharon Rebecca (Earls) Hansel of Mt. Sterling, IN; his daughter, Melinda Lewis and her husband, Dale of Canal Fulton, OH; his son, Donnie Hansel and his wife, Jennifer of North Canton, OH; his grandchildren, Chace Michael Lewis and William Sterling Hansel; his sister, Deborah Gazey and her husband, Alan of Barberton, OH; his step-son, Ray Denning and his wife, Stacy of Madison, IN; his mother-in-law, Wyrola Cole of Columbus, GA; his brothers-in-law and sisters-in-law, Julia and Shane Allen of FL, Mike and LuAnn Earls of Lakeland, FL, Fred Earls of Madison, IN, Bill and Nelda Earls of OH, Brian Cole of Columbus, GA and Jamie Cole of Columbus, GA; his step-sisters-in-law and step-brothers-in-law, Debbie Simpson of Vevay, IN, Billie Kuhnen of Vevay, IN, Jill Darbro of Madison, IN, Beanie and Mark Driver of East Enterprise, IN, Carolyn Jo Darbro and Larry Lee of Perry Park, KY, Larry and Debbie Darbro of Florence, IN and Bobby Darbro of Vevay, IN and his several nieces, nephews and abundance of friends.
He was preceded in death by his parents, William B. and Ruth Carol (Harrell) Hansel; his father-in-law, Ulia Cole Earls and his step-mother-in-law, Norma Earls.
Private Memorial Services are being held at the convenience of the family.
In lieu of flowers, memorial contributions may be made to the Darrell Hansel Endowment Fund c/o CFSCI. Cards are available at the funeral home or online at www.haskellandmorrison.com