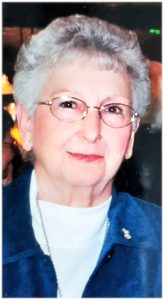 Mary Elizabeth (Huffman) Dobson, "Betty", passed away at the age of 92 at the St. Andrews Health Campus in Batesville with her loving family by her side. Betty was born on Sunday, January 19, 1930 in North Bend, Ohio, daughter of Harold Henderson "Pat" and Clara Mae "Sis" (nee Naegle) Huffman. Betty graduated from Milan High School in 1948. She married her high school sweetheart, Barter Dobson, in 1948. She was a member of the First Baptist Church in Milan where she sang in the choir, taught Sunday School, played the organ and piano, treasurer of the Missionary Society for 14 years, and a member of the Good Newsletter. Betty was very active in the Milan Community, whether she was attending school activities or participating in the town activities. She was an EMT for the town and held the position of secretary/treasurer for Milan High School for 39 years. She was working at the school when Milan won the 1954 State Basketball Championship. Betty enjoyed quilting, crafts, dancing, reading, working word puzzles, and writing children poetry. She was also known for the gold shoes she wore. She loved animals, especially cats, and had many fur babies over the years. She and Barter loved to travel and spent many winters in Florida until Barter's health declined. Betty and Barter's greatest passion in life was babysitting and spending time with their children, grandchildren, and great-grandchildren.
Betty will be greatly missed by her children, Karen Werner (Terry) of Batavia, Ohio, Richard Dobson (Carol) of Oldenburg, Indiana, and John Dobson, her caregiver, of Milan, Indiana; grandchildren Amy Werner (Mike), Carrie Hampson (Rodd), Josh Werner, Jeff Dobson (Laura), Jarrod Dobson (Sarah), Jordan Dobson, and Joey Lynn Meer (Alex); great-grandchildren Justin Cundall, Jackson Cundall, Thomas Cundall, Tyler Dobson, Reese Dobson, Evan Hampson, Gavin Hampson, Faith Hampson, Gwendolyn Dobson, Fowler Meer, and Brynnlee Meer.
Betty was preceded in death by her husband Barter, her parents, Harold and Clara Huffman, brother Bill Huffman, and great-grandson Connor Hampson.
Family and friends may gather in remembering Betty from 4:00 – 7:00pm on Sunday, September 11, 2022 at the Laws-Carr-Moore Funeral Home in Milan. A service will be held at 11:00am on Monday, September 12, 2022 at the First Baptist Church in Milan, 112 S Main Street, Milan, IN 47031, with Pastor Harris Long officiating. Burial will take place in New Craven Cemetery. Memorials may be given in honor of Betty to the First Baptist Church of Milan, Milan Fire Department, or the Milan Lions Club.
Laws-Carr-Moore Funeral Home has been entrusted with arrangements, 707 S Main Street, Box 243, Milan, IN 47031, (812 )654-2141. Please visit our website at www.lawscarrmoore.com to share your condolences and memories of Betty.