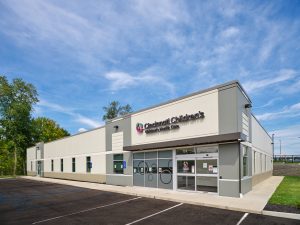 Batesville, IN — Cincinnati Children's is adding specialty clinics at its primary care location in Batesville so kids and families in Southeast Indiana don't have to travel far to see physicians and other providers who specialize in serious medical issues.
A weekly Gastroenterology clinic will begin September 14 at the Cincinnati Children's location in Batesville, and a Sports Medicine clinic will begin September 15.
The Batesville medical practice will also offer regular clinics in Ear, Nose & Throat (starting October 4), Neurosurgery (October 12), and Pulmonology (October 25). The frequency of the clinics will vary. Cardiology clinics have been held monthly at the Batesville practice for many years.
"Cincinnati Children's already cares for kids in Indiana, and by offering more specialty clinics there on a regular basis we'll make it easier for families to get world-class healthcare closer to their homes," said Dr. Evaline Alessandrini, chief operating officer of the medical center. "This is the first time we have offered such a broad range of specialty clinics in Southeast Indiana."
Dr. Andy Poltrack and Dr. Gretchen Hartz are co-medical directors of the Cincinnati Children's practice which includes offices in Batesville and Greensburg.
Specialty clinics will be offered only in Batesville.
"We want all kids to get the care they deserve, including visits with top medical specialists," Dr. Poltrack said. "We have an amazing pediatric primary care practice, with room to accommodate these additional clinics. We believe this expansion of services will not only complement what we already do but also address a very important need in Southeast Indiana. There is especially strong demand for gastroenterology services in our communities."
Cincinnati Children's is ranked the No. 1 pediatric medical center in the Midwest in U.S. News & World Report's 2022 listing of Best Children's Hospitals. The medical center is No. 1 in the nation for Gastroenterology & GI Surgery and No. 2 for Pulmonology & Lung Surgery, with seven other specialties ranked in the top 10 nationally.
Cincinnati Children's has provided primary care in Batesville and Greensburg since 1998. Both offices offer primary pediatric care for children from birth through adolescence.
The Batesville office is open Monday through Saturday at 124 State Road 46 West – Phone: (812) 933-6000.
The Greensburg office is open on weekdays at 1809 North Lincoln Street – Phone: (812) 662-8115.
(Cincinnati Children's press release)