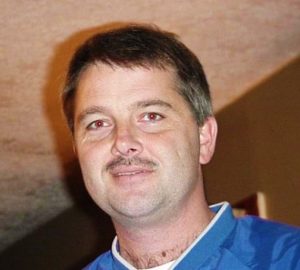 Mr. James Leslie "Jamie" Hayes, age 52, of Vevay, Indiana, passed away at 2:36 p.m., Monday, August 29, 2022, at the Carroll County Memorial Hospital in Carrollton, Kentucky. Jamie entered this life on November 17, 1969 in Madison, Indiana. He was raised in Vevay, Indiana and was a 1988 graduate of the Switzerland County High School. During his high school years, Jamie played basketball and baseball. He coached basketball and baseball and also coached at the YMCA and at the Markland Dam Park for several years. Jamie was united in marriage in 1998 at the Vevay Christian Church to Heather Parnell. This happy blended family was blessed with three children, Nathan, Kollin and Leigh. Jamie was employed in quality control and later as a supervisor for Arvin Sango in Madison, Indiana for 27 years. Jamie was currently employed in shipping and receiving for BESI Inc. in Vevay, Indiana for six years. Jamie served on the Vevay Town Council for 16 years. Jamie enjoyed watching sports, especially UK Wildcats, coloring and mowing grass. Jamie loved dogs especially his faithful companion, Greg. Jamie was a member of the Vevay American Legion Post #185 and the Vevay VFW Post #5396.
Jamie will be deeply missed by his sons, Nathan Smith of Lapeer, MI and Kollin Hayes of Vevay, IN; his daughter, Leigh Hayes of Vevay, IN; his grandchildren, Elijah, Aubree and Isaiah; his parents, Paul Vernon and Lorretta Mae (McKenzie) Hayes of Vevay, IN; his brother, Todd Hayes and his wife, Kris of Kuna, ID; his nieces and nephews, Kayla Hayes, Dustin Hayes, Andy Prussner, Linsey Hayes, Ryan Prussner and Paul Kyle Hayes; his great-nieces and great-nephews, Shelby, Jaxson, Jon, Allie, Nic and Cooper; his aunts and uncles, Donald and Mardi McKenzie of Tuttle, OK, Lona Mathews of Largo, FL, Betty Scott of Vevay, IN, Judy Kay White of Vevay, IN, Lynda McKenzie of Vevay, IN, Betty Pavy of Lawrenceburg, TN, Robert Hayes of Rising Sun, IN and Ronnie and Betty Hayes of East Enterprise, IN and numerous cousins.
He was preceded in death by his brother, Paul Bryan Hayes; his maternal-grandparents, Leslie McKenzie and Mary Ellen (Cole) McKenzie- McClellan; his paternal-grandparents, James P. and Olive M. (Lewis) Hayes; his niece, Megan Shelby Hayes; his uncles, Lewis Edward McKenzie, David "Buck" White, Richard "Rick" McKenzie, Elmer Lloyd "Dumpy" White, Ernest Ray "Ernie" McKenzie, Robert Lee "Hardly" McKenzie, Donald Hayes and Kenneth C. "Bucky" Pavy and his cousin, Loni Amber Lynn Turner.
Visitation will be held from 11:00 a.m. – 1:00 p.m., Saturday, September 3, 2022, at the Haskell & Morrison Funeral Home, 208 Ferry Street, Vevay, Indiana 47043.
Funeral services will be conducted at 1:00 p.m., Saturday, September 3, 2022, by Rev. Mike Jones, at the Haskell & Morrison Funeral Home, 208 Ferry Street, Vevay, Indiana 47043.
Memorial contributions may be made to Jamie Hayes Memorial Fund c/o Haskell & Morrison Funeral Home. Cards are available at the funeral home or online at www.haskellandmorrison.com