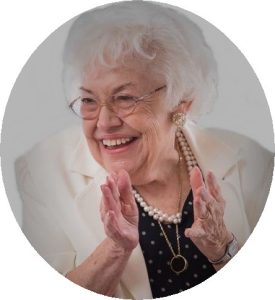 Dixie Lou Molnar, 91, passed away peacefully August 23, 2022 at St. Andrew's Health Campus, Batesville, IN.  She will be forever remembered for her compassion, joy, playful antics and immense love for her family.
Dixie was born November 14, 1930 in Pittsburg, Pennsylvania, the daughter of Jack Williams and Dorothy (Jenkins) Williams Morgan.
Dixie grew up in Beaver Falls, Pennsylvania. She graduated from Beaver Falls High School, Class of 1948, where she excelled at singing, dancing and writing. She married Robert "Bob" Molnar in 1950 and was happily married for almost 50 years until his passing. Dixie worked at JC Penny's, TechTAF in Biloxi, MS, the Treasury Department in Washington DC and Prince George's Community College in Largo, MD. She retired in 1993, after serving many years as the administrative assistant to the Dean of the Business School at PGCC.
Dixie and Bob lived in Upper Marlboro, MD for 39 years, raising their family and later retired to their beach home in Ocean City, MD. Several years ago, Dixie moved to Batesville, to live with family.
She was a wonderful daughter, sister, wife, mother, aunt, grandmother, great-grandmother and friend. Nothing made her happier than to have all her family together for a meal or holiday. She was nicknamed "Meatballs" by some because of the delicious spaghetti and meatball dinners she would prepare. Dixie loved to laugh and was well-known to all for her silly practical jokes.
Growing up with a mother who had been a Ziegfeld Girl and a father who managed Warner Theaters, she was tap dancing on stage by age 3. Dixie loved the world of entertainment, especially the old movies and classic TV shows. She was a walking encyclopedia of movie trivia from the 1940s to the present day. And she was quite the entertainer herself… singing for her children, sharing amusing family stories and pulling hilarious pranks on coworkers, family and friends. If your spirits needed lifting, she would get you laughing. If you needed an ear, a kind word or a loyal supporter, she was your go to. She made everyone feel special, which is one of the many reasons she was adored.
In addition to her parents, she was preceded in death by her loving husband, Bob. She is survived by her 3 children, Andy Pfautz and her husband, Bart, of Batesville IN, Bill Molnar and his wife, Stephanie, of Avon CT, and Cathy Chambers and her husband, Rick, of Huntingtown MD; eight grandchildren, Bart Pfautz and his wife, Jeannie, of Charlottesville VA,  Bobby Pfautz of Batesville IN, Billy Pfautz, of Loa UT, Brett Pfautz, of Big Sk, MT, Morgan Lehmann and her husband, Alex, of Redwood City CA, Blake Molnar of NYC NY, Carly Horan and husband, Connor, of Wilmington NC, and Austin Chambers and his wife, Baylee, of Glen Burnie MD; great-grandchildren, Barton and Amelia Pfautz; two brothers, Robbie Morgan and his wife, Ellen of Forrestville MD and Richard Williams and his wife, Linda, of O'Fallon IL; and a host of other relatives and friends.
A service will be held at 1:00PM, September 2, 2022 at Saint Mark Evangelical Lutheran Church, 208 West Pearl Street, Batesville, IN. Pastor Jill Kepler Campbell will officiate. No visitation is planned. Interment of her ashes with the ashes of Bob, her beloved husband, will be held at a later date in Ocean City, Maryland.
Those who wish to remember Dixie may make donations in her memory to Saint Jude's Children's Hospital or the Activity Fund at St. Andrew's Health Campus, Batesville, IN.