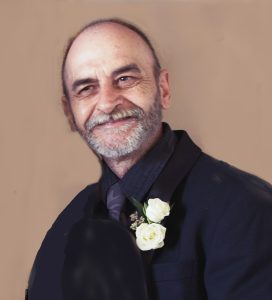 James Gordon Harris, 62, of Lawrenceburg, Indiana, passed away Saturday, August 20, 2022.
He was born August 14, 1960, in Cincinnati, OH, son of the late James Harris and Avalon (Gordon) Harris.
Jay Bird worked as a self employed roofer and carpenter. He had a sharp eye for detail and craftsmanship, and worked on many historical buildings in downtown Lawrenceburg.
Jay Bird loved riding Harley's, hunting, fishing, golfing, and watching reality and wilderness tv shows. He took all of his children hunting and enjoyed spending time outdoors. Time with his family was very important to him and he will be greatly missed.
James is survived by his loving spouse Madeline "Kay" (Bronaugh) Harris, children, Jason Harris of Northern, KY, Owen (Rachael) Gibler of Nashville, TN, Tory (Dan Boehl) Gibler of Washington, DC, Kristin (Adam Kolegas) Gibler of Los Angeles, CA, Ilene (Matt Bobel) Gibler of Milwaukee, WI, Theresa Harris of Lawrenceburg, IN; brother, John Harris of Lawrenceburg, IN; grandchildren, Jordan Harris, Cash Gibler, Massé Kolegas, Medo Boehl, and Avalon Turner.
He was preceded in death by his parents James and Avalon; sister, Nancy Kincaid.
Friends will be received Saturday, August 27, 2022, 1:00 pm – 3:00 pm at the Rullman Hunger Funeral Home, 219 Mechanic Street, Aurora, Indiana.
A Memorial Service will be held at the Funeral Home, at 3:00 pm.
Contributions may be made to defray funeral expenses. If unable to attend services, please call the funeral home office at (812) 926-1450 and we will notify the family of your donation with a card.
Visit: www.rullmans.com