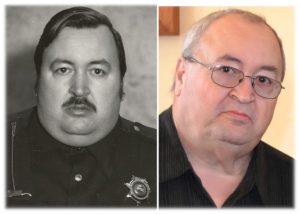 Dennis "Denny" Rea Ryker, 71, of Milan passed away at 4pm, Monday, August 22, 2022, at St. Elizabeth Edgewood in Edgewood, KY. He was born in Milan on Friday, December 22, 1950, the son of Floyd Sr. and Flora Ryker. He was married to Donna (nee' Little) Ryker on June 4, 1974, and his wife of 48 years survives.
Mr. Ryker graduated from the Indiana Police Academy in the early 70s and went on to be Chief of Police of Milan for many years. During that time, he received the Indiana Law Enforcement Policeman of the year award for his work in solving numerous crimes and robberies in Southeastern, Indiana. He was a member of the FOP and former member of Rescue 30. He loved to "get a cup". When other policemen would come to town he'd get on the radio and ask, "Got time for a cup?" The area Town Marshals, County Deputy's, and State Police would signal 8 (gather) at the picnic tables outside the Reservation Restaurant and get caught up on the latest happenings in the county. Denny was very knowledgeable about his town that he protected. He was well known for helping young violators get on the right track instead of charging them with a crime. When a crime occurred, he had a pretty good idea who was responsible.
Denny's working career was a variety of jobs. Such as police officer, tour bus driver, security guard, television repairer, computer repairer, and tinkering with electronics in general. He was a bus driver for Crown Charter in Lawrenceburg, IN. He was also a tour bus driver often times for The Boys from Indiana Bluegrass band. He was a security guard for numerous businesses and was a television repairer for Ryker's TV Repair for several years. In his spare time, he often would repair computers as well. He enjoyed listening to music and his police scanner. He loved playing jokes on people and having a good time.
Survivors include wife Donna Ryker of Milan, one son Dennis Wayne Ryker of Milan and one daughter Amanda Sue Ryker of Milan. One grandson, Dakota Brady Hurd of Milan, and one granddaughter Katelyn (Katie) Mercedes Ryker of Lawrenceburg. One great-granddaughter, Micayla, and one great-grandson Michael. One brother, Floyd Leroy Ryker Jr. of Milan, and one sister Karen E. Ryker.
He was preceded in death by his parents, Floyd Sr. and Flora Ryker and his other three sisters Floretta, Laverne, and Doris.
Family and friends may gather in remembering Denny from 10:00am – 12:00pm Friday, August 26, 2022 at the Laws-Carr-Moore Funeral Home in Milan. A Celebration of Life Service will immediately follow at 12:00 PM with Pastor Tom Holt officiating. Memorials may be given in honor of Denny to the family.
Laws-Carr-Moore Funeral Home has been entrusted with arrangements, 707 S Main Street, Box 243, Milan, IN 47031, (812)654-2141. Please visit our website at www.lawscarrmoore.com to share your condolences and memories of Denny.