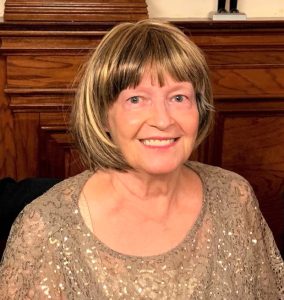 Diane Marie Zinser Crocker, 74 years old of Logan, passed away peacefully surrounded by her family on Wednesday, August 10, 2022. Born and raised in Indiana, Diane attended elementary school at St. John's School in Dover and graduated from North Dearborn High School. She met the love of her life, Glenn, as he was cruising through Frisch's in downtown Harrison one evening. He was cruising in his pristine '69 Dodge Super Bee, forest green with a white stripe on the back, which caught her eye. They soon married at St. John's Catholic Church in Dover and had five beautiful children. Lovingly called the best domestic engineer ever, Diane couldn't say "I love you" enough to those she held close to her heart. She enjoyed cooking and baking for her family and always made sure to tell them to drive carefully as they were leaving. No one was allowed to leave without the obligatory "I will" and promise to call when you got home, especially when the weather was bad.
Diane loved all things scary. She was an avid reader, especially of Stephen King and JD Robb novels.  She enjoyed thriller movies which she passed on to her children and grandchildren, and loved to throw a great Halloween party where she donned the scariest costume she could find. Diane also liked jigsaw puzzles, word searches, and fill ins and could easily transport you to another place by telling stories with her colorful imagination.
Diane will be deeply missed by Glenn, her husband of 52 years, her children Andrew (Steven) Crocker of New Albany, IN, Holly (Michael) Trabel of Lawrenceville, Clint (Shae) Crocker of Logan, Josh (Courtney) Crocker of Orleans, IN, and Kacie (Andrew) Elliott of Ft. Mitchell, KY; grandchildren Leo Bowling-Crocker (7), Abagail (26) (Garrett) Weiler, Alison Trabel (24), Carter (17), Ira Marie (15), & Ivie (13) Crocker, Rylan Crocker (15), Anderson (7) & Margaret Diane (5) Elliott; siblings Karen Schaeffler-Geis, Patricia Bader, Jane Dever, Katherine Tribbe, John Zinser, and Melinda Dever. She is preceded in death by her parents Adelaide and Francis Zinser.
Memorials for Diane can be made to the Leukemia & Lymphoma Society or Loving Hearts Hospice and can be sent to Andres-Wuestefeld Funeral Home at 25615 State Rt. 1, Guilford, IN 47022. Friends and family are encouraged to leave condolences at www.andres-wuestefeldfh.com.