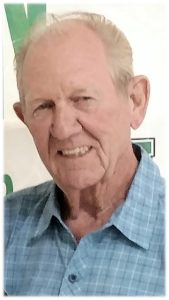 Richard "Dick" Ungerbuehler, 88, of Dillsboro passed away Wednesday, August 10, 2022 at his residence with his family by his side. Dick was born on Tuesday, June 19, 1934 in Cincinnati, Ohio; son of Lester and Marie (nee' Smith) Ungerbuehler. Dick married his loving wife, Birdie Huffman, on March 12, 1966 and she preceded him in death on August 2, 2013. Dick was employed by Fernald for 15 years and was a Rumpke container service driver for 21 years. He was an outdoors man and an NRA member who enjoyed hunting, feeding birds, mowing the lawn, farming, and loved working on the farm. He was an avid reader of Western books and watching western TV shows. His greatest passion in life was spending time with his family and going to the children and grandchildren's sporting events.
Dick will be missed by his sons Todd Ungerbuehler (Cherry), Scott Ungerbuehler, and Willie Davies (Nancy) all of Ohio; daughter Kim Ungerbuehler of Dillsboro; brother Terry Ungerbuehler (Ann) of Ohio; six grandchildren; and thirteen great-grandchildren.
Dick was preceded in death by his parents, Lester and Marie, wife Birdie, sister Dorothy Danemayer, brother Robert Ungerbuehler, and granddaughter Nicole Ungerbuehler.
Family and friends may gather in remembering Dick from 10:00am – 12:00pm Monday, August 15, 2022 at the Filter-DeVries-Moore Funeral Home in Dillsboro. A service will immediately follow at 12:00pm with Pastor Wayne Daugherty officiating. Burial will take place in Oakdale Cemetery. Memorials may be given in honor of Dick to P.A.W.S. of Dearborn County or the Dearborn County Yes Home.
Filter-DeVries-Moore Funeral Home has been entrusted with arrangements, 12887 Lenover Street, Box 146, Dillsboro, IN 47018, (812)432-5480. Please visit our website at www.filterdevriesmoore.com to share your condolences and memories of Dick.