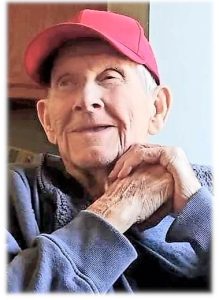 Clayton Collins, 93, of Osgood passed away Tuesday, August 9, 2022 at Arbor Grove Village in Greensburg with his loving family by his side. Clayton was born on Saturday, March 30, 1929 in Isom, Kentucky; son of Byrd and Sadie (nee' Adkins) Collins. Clayton married the love of his life, Letha Ann Jarrett, on February 7, 1949 and she preceded him in death on August 10, 2009. Clayton was a member of the Bethany Baptist Church in Osgood. He worked as a coal miner for 22 years and upon moving to Indiana he took a job at Hillenbrand Casket Company where he worked for another 22 years before retiring. He enjoyed restoring cars, working on anything and everything, and was a huge race car fan.
Clayton will be missed by his sons Samuel Collins (Linda) of Bright, Fred Collins of Osgood, Billy P. Collins (Kim) of Sunman; daughters Joan Collins of Batesville, Tammy Collins (Kevin Washam) of Laurel, and Melinda Collins of Brookville; sister Yvonne Collins of Tennessee; nineteen grandchildren; many great-grandchildren; and several great great-grandchildren.
Clayton was preceded in death by his parents, Byrd and Sadie, wife Letha, daughter Karen Wolter, five brothers, six sisters, and grandsons Robert Allen Vance and Elisha Bleu Collins.
Family and friends may gather in remembering Clayton from 10:00am – 12:00pm on Friday, August 12, 2022 at the Laws-Carr-Moore Funeral Home in Milan. A service will immediately follow at 12:00pm with Pastor Tom Holt officiating. Burial will take place in St. Peter's Catholic Cemetery. Memorials may be given in honor of Clayton to the donor's choice.
Laws-Carr-Moore Funeral Home has been entrusted with arrangements, 707 S Main Street, Box 243, Milan, IN 47031, (812)654-2141. Please visit our website at www.lawscarrmoore.com to share your condolences and memories of Clayton.