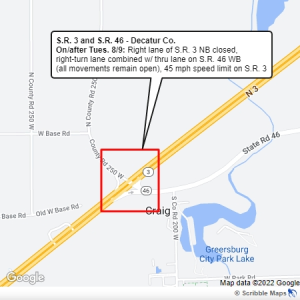 Greensburg, IN — Indiana Department of Transportation contractor Paul H. Rohe Company plans to begin work on an intersection improvement project at the north junction of State Road 3 and State Road 46 in Greensburg, starting on or after Tuesday, August 9.
The project includes signal modifications and turn lane improvements at the intersection and County Road 250 West.
Starting as soon as today, the right lane of northbound S.R. 3 will close to traffic.
In addition, the right-turn lane on westbound S.R. 46 will be combined with the thru lane.
Crews will later transition to southbound S.R. 3 and work near C.R. 250 W. for phase two of the project.
All movements will be maintained during each phase of the project, with a reduced speed limit of 45 mph on S.R. 3.
The majority of the project is expected to be complete by late October, followed by additional work next spring to complete seeding and other tasks.
The contract was awarded to Paul H. Rohe in March 2022.
INDOT reminds drivers to slow down, use caution and watch for workers and equipment in active work zones.
All work is weather-dependent and schedules are subject to change.
(Indiana Department of Transportation press release)