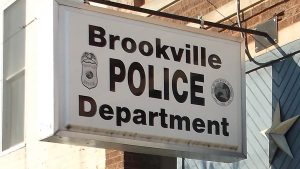 Brookville, IN — Two Brookville police officers are on paid administrative leave pending the outcome of an Indiana State Police investigation.
The Brookville Town Council late last week suspended Chief Terry Mitchum and Officer Ryan Geiser for allegedly conspiring to keep a Brookville resident from running for town council because that person made negative comments about law enforcement.
The suspension prohibits Mitchum and Geiser from entering town property.
They were also ordered to surrender their service firearms, badges, and patrol cars.
The pair allegedly charged the candidate with rape despite an investigation that did not turn up any solid evidence.
That case was subsequently dismissed, and ISP launched an investigation.
Assistant Chief Michael Strait was appointed interim police chief.