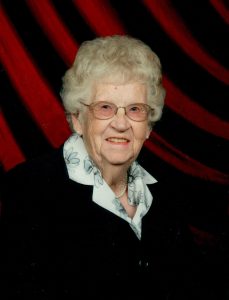 Laverne Mary Barhorst, 91, passed from this life on Friday, August 5, 2022, surrounded by family.  Born on August 21, 1930, she was the daughter of Wilbur and Christine (Klosterkemper) Waters.  She married Alfred Barhorst in Millhousen, Indiana on November 26, 1953.
She was a loving mother, grandmother, and great-grandmother and enjoyed playing cards with her family and friends.  She was a member of St. Mary's Catholic Church in Greensburg, Indiana.
Laverne is survived by her children: Ronnie (Carol) Barhorst, Tim Barhorst, and Sharon (Gary) Fischer.  She was blessed with seven grandchildren: Rebecca (Scott) Rahschulte, Jason Barhorst, Stephanie (Dan) Kress, Jacqueline (Davin) Jobst, Aaron Barhorst, Benjamin (Caitlin) Fischer, Alexander (Christina Holbert) Fischer; and eight great grandchildren: Madison Rahschulte, Ethan Rahschulte, Lauren Jobst, Morgan Jobst, Maya Kress, Sunny Kress, Harrison Kress, and Maxwell Fischer.
She was preceded in death by her parents; husband, Alfred Barhorst; son, Kenneth Barhorst; and five brothers: Willard, John, Russell, Lester, and Lavelle Waters.
Family and friends will gather at 3:30 p.m. on Wednesday, August 10, 2022, at Porter-Oliger-Pearson Funeral Home in Greensburg to pray the rosary.   Visitation will follow until 7 p.m. at the funeral home.  The family will also receive friends from 8:30 – 9:15 a.m. on Thursday, August 11, 2022, at St. Mary Catholic Church in Greensburg with the funeral Mass to follow at 9:30 a.m. with Rev. John Meyer officiating.  Burial at Immaculate Conception Catholic Cemetery in Millhousen will follow. Memorials may be made to St. Mary Catholic Church or Our Hospice of South Central Indiana.
To leave online condolences please visit www.popfuneralhome.com.