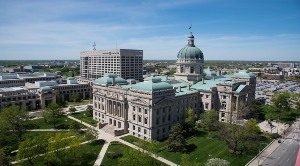 Statehouse — Indiana became the first state in the U.S. to approve an abortion ban since the Supreme Court overturned Roe V. Wade in late June.
Gov. Eric Holcomb signed the bill into law late Friday.
The ban takes effect on September 15.
According to the new law, abortions can only be performed at hospitals or outpatient centers owned by hospitals in cases of rape or incest up to 10 weeks after fertilization.
Other exceptions include protecting the life or health of the mother or if the fetus is diagnosed with a lethal anomaly.
A few hours after Gov. Holcomb signed the abortion bill into law, Indianapolis-based Eli Lilly issued a statement saying it will be forced to plan for more jobs outside of Indiana.
Lilly said abortion restrictions will hamper the pharmaceutical giant's ability to attract top talent.
In addition, Senate Bill 2 was approved by both the Indiana House and Senate during the special session and signed into law by the Governor.
The measure offers a $200 taxpayer refund and places a cap on the state's gas tax at 29.5 cents per gallon through 2023, plus support for children and expectant mothers.