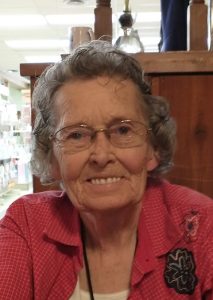 Nova Hafenbridle Rutherford, of Frankfort, Indiana was born January 11, 1937, in Knott County, Kentucky, a daughter to Bent and Perlecy Jean Combest Noble. She graduated Hindman High School and later moved to Sunman, Indiana, where she met and married the love of her life, John Hafenbridle in 1964. After John's death in 2000, Nova was lucky to find new love with Robert Rutherford, whom she married in 2005.
Nova was a member of the Phillipi Baptist Church of Cincinnati, OH for many years until she moved back to Indiana in 2021, where she became a member of Grace Church of Lebanon, IN. Nova retired from Hill-Rom Industries in 1999 after 38 years of employment. Nova shared her love for the Lord and family with her husband John and son Gary as well as enjoyment of the outdoors, fishing, and hunting. Robert and Nova met at a Senior Center. They enjoyed dancing and taking group trips. On Thursday August 4th, 2022, at the age of 85, Nova entered her eternal life.
Those surviving who will cherish Nova's memory include her son Gary (Patti)Hafenbridle, stepchildren Robert Rutherford Jr (Jannis), Molly Mcbride, Brian Rutherford (Janeen), David Rutherford (Kathleen), Nancy Closterman (Ed) and the 18 grandchildren, many great-grandchildren and several cousins, nieces and nephews. She was preceded in death by her parents, her husband's John and Robert, brothers Robert Noble, Ray Noble, Corbett Noble, sister Daisy Collins and Jack Rutherford (Charleen).
Friends may visit with the family on Thursday, August 11, 2022, from 11 a.m. until time of service at 1 p.m. at Cook Rosenberger Funeral Home, 107 Vine Street, Sunman.  Pastor Dave Tittle will officiate the funeral service at 1 p.m. at the funeral home and burial will follow in St. Paul Cemetery.
In lieu of flowers donations can be made to the Alzheimer's Disease Research Foundation by mailing to 644 Linn St, Cincinnati, OH 45203, online at act.alz.org or by bringing to the funeral home.  To sign the online guestbook or to leave condolences please visit www.cookrosenberger.com.  The staff of Cook Rosenberger Funeral Home is honored to care for the family of Nova Rutherford.