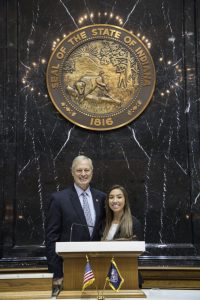 Indianapolis, IN — Southeast Indiana is home to many talented young adults preparing to launch their careers, and the Indiana House of Representatives is a great place to get started. College students, recent college graduates, and law school and graduate students are encouraged to apply now for internships at the Statehouse.
Interning is a great opportunity for students to apply their classroom knowledge in a professional setting while learning new skills. Internships are available in several departments working with Indiana House Republicans, including the Legislative Operations Department, Communications Department and Policy Department. Legislative interns perform many important tasks, including tracking and researching bills, and communicating with representatives' constituents. Communications and media relations interns write news releases, create and produce videos and audio clips, and help with graphic design. Students with a knack for research can aid the policy department in tracking and analyzing legislation, and preparing committee reports.
In addition to work experience, students can earn academic credit through their school, bolster their resumes and make professional connections with leaders from all parts of Indiana as they prepare to launch careers in both private and public sectors.
While networking and building skills are vital, it is also important to earn while you learn. Interns will receive an $800 bi-weekly stipend and the opportunity to apply for a $3,000 scholarship, which can be used toward undergraduate or graduate expenses. Interns will work in person at the Statehouse in downtown Indianapolis, 8:30 a.m. to 5 p.m., Monday through Friday, from January through April of next year.
All college sophomores, juniors and seniors, recent college graduates, graduate and law school students of all majors are encouraged to apply, and political or government experience is not needed.
Apply soon as interviews are taking place. To learn more and apply online, visit indianahouserepublicans.com/internship. To learn more about the experience from former interns, visit the Indiana House Republican Internship Facebook page.
(Information provided by the office of State Representative Randy Frye.)