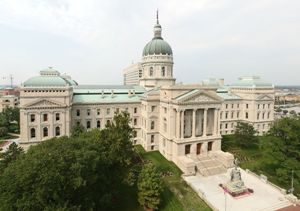 Indianapolis, IN — The Indiana General Assembly's House Committee on Courts and Criminal Code voted to advance Senate Bill 1, commonly known as the Abortion Bill, on Tuesday. The committee sent the bill on to the full House Caucus with a vote of 8-5 and minor changes. The House will is scheduled to debate the bill today, Thursday, on second reading where more amendments can be made.
State Representative Randy Frye stated they hope the amendments don't stray too far from the Senate version. The House of Representatives hopes to have the bill up for the third, and final, reading in their chamber tomorrow for the final vote. Representative Frye said that he hopes the bill is voted on by early Friday afternoon. He said if that happens, and the version that is passed is close to the Senate version, the Senate could vote on final approval of the bill as soon as late Friday afternoon.
The bill would then be sent on to Governor Holcomb. If the bill sent out of the House is not approved by the Senate, the two chambers will then enter into a Conference Committee.