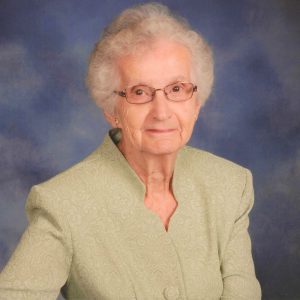 Irma Andres, 98 years old, passed away peacefully on Tuesday, August 2, 2022. Raised in Yorkville, IN, Irma was the eldest of seven children born to Mary and Roman Kuebel where she inherited her strong work ethic through the family farm. Growing up during the Great Depression, Irma left high school early to nanny for relatives and work in a bakery in North College Hill, OH to help support the family, then worked for a distillery and a shoe factory. After marrying Sylvan Andres, Irma moved to Dover and found leadership in the church and community. Family and God were the guiding principles throughout her life. A mother to four children, she was exceptionally supportive and caring. She took time to make quilts and crochet afghans for everyone in her family. Irma's baking skills were on par with Martha Stewart and everyone looked forward to her pies.
Along with other Dover families, Irma was instrumental in getting the famous chicken dinners started in Dover and chaired many of the church's events throughout the years. She was also part of St. John's Ladies Sodality, made quilts for the church festivals, and cleaned and ironed the church linens on a regular basis. She was also constantly on call to assist her husband in running the local Shell gasoline station. In addition to her dedication to the church, Irma and eight ladies created a euchre card club that lasted for over 30 years. She passed on her love for euchre by teaching her grandchildren and great grandchildren with her quiet wit. They lovingly called her "magic hands" because she always seemed to have the winning hand, even though she'd never admit to it. Her quiet, sharp sense of humor shown through during euchre. Although much of her attention was on family and church, Irma shared her caring disposition with the folks at Shady Nook where she worked as a cook and managed the laundry, unsurprisingly earning the recognition of employee of the year.
Irma will be deeply missed by her children Ronald (Carol) Andres of Rush County, Lawrence (Denee) Andres of Dover, Daniel Andres of Dover, and Mary (Mike) Russell of Lawrenceburg; siblings Russell Kuebel, Mildred Swales, and Ray Kuebel; grandchildren Michael (Dana) Andres, Brian (Ashley) Andres, Sean Andres, Kevin Andres, Holly (Coy) Baker, Michelle (Zach) Fehr, and Danny Russell; great grandchildren Ethan, Nolan, Alexis, Halle, Cooper, and Ronnie (Sarah) Andres and Kenny, Layla, Max, and Lucy Baker; great grandchildren Nellie and Lillie. Irma is preceded in death by her husband of over 30 years, Sylvan, parents Mary and Roman Kuebel, and siblings Mary Rose Graf, Ralph Kuebel, and Robert Kuebel.
Services for Irma will be held on Saturday, August 6 at Andres-Wuestefeld Funeral Home at 25615 State Rt. 1, Guilford, IN 47022. Rosary will begin at 8:45 am and visitation will be from 9:00am – 11:00am. Mass of Christian Burial will be held at 11:30am at St. John's Campus, All Saints Parish at 25743 State Rt. 1, Guilford, IN 47022. Burial will immediately follow in the church cemetery. For those unable to attend, the Mass will be live streamed at https://www.youtube.com/user/aspweeklyhomily. Memorials can be made to All Saints Parish or St. John's Cemetery Fund. Memorials will be taken at the visitation or can be mailed to the funeral home. Family and friends are encouraged to leave condolences at www.andres-wuestefeldfh.com