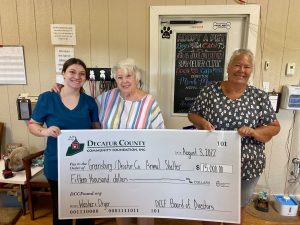 Greensburg, IN — Decatur County Community Foundation is proud to make an impact in the community with the help of their generous donors.
Each year, Decatur County Community Foundation offers three cycles of large grants. Large grants provide up to $15,000 to organizations seeking to meet big needs in Decatur County. The second cycle started in May and wrapped up at the end of July and Decatur County Community Foundation awarded grants to:
Greensburg/Decatur County Animal Shelter for an industrial washer and dryer.
South Decatur Elementary School to rebuild a deck with a sitting area for reading to kids and observing the smells, sights, and sounds of nature for science activities.
Decatur County Community Foundation was able to grant out $30,000 thanks to the generosity of the community. The third and final cycle of the year's large grants letter of intent is due September 9. To learn more about how your donation to the Foundation makes a forever difference in the community or to learn more about the large grant process, contact the Foundation at 812-662-6364, or at [email protected].
(Information and photo provided by DCCF.)