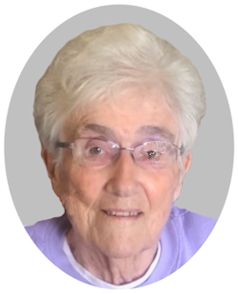 Carol A. Firsich, age 86 of Greensburg, died Wednesday, August 3, 2022 at Morning Breeze in Greensburg.  Born July 22, 1936 in Batesville, she is the daughter of Dorothy (Nee: Velten) and Harry Johnson.  She married James Firsich August 20, 1955 at St. Louis Church.  She was a member of the Modern Trends Home Economic Club and the Greensburg Daughters of Isabella.
Carol was an avid gardener and love to cook.  According to her family, it didn't matter what she made, you knew it was going to be delicious.  She also enjoyed a good meal and something the kids got a kick out of, she tried to chew her food 25 times, apparently something she was taught growing up.  Carol treasured her family and the time spent with them.  Her greatest wish was for everyone to be happy.  Twelve days prior to her death was her 86th birthday and in a couple of weeks, she and Jim would have celebrated their 66th wedding anniversary.  Her children admired their relationship as they shared a love like no other.
Carol is survived by her husband Jim; daughters Peggy (Guy) Folkman of Batesville, Anne (Paul) Kane Tecumseh, Michigan, Ellen Kane of Bethel Park, Pennsylvania; sons Todd (Jeanette) Firsich of North Vernon, Indiana, Scott (Holly) Firsich of Pickerington, Ohio; brothers Tony and Tom Johnson of Batesville; grandchildren Matt, Ben, Emily, Tyler, Molly, Linzi, Jessica, Joe, Kristen, Zach, Bret, Abby, Alli and great grandchildren Owen, Chloie, Anna, Dallas, Colton, Nolan, Liam, Lena, Eleanor Maddie and Lilly.  In addition to her parents, she is also preceded in death by her sister Margie Kidwell and great grandson Isaiah Scheidler.
Visitation is Tuesday, August 9th, from 4 – 7 p.m. at the Weigel Funeral Home.  Funeral services are 11 a.m. Wednesday, August 10th at St. Mary's Church in Greensburg with visitation 1-hour prior.  Rev. John Meyer will officiate and burial will be in St. Louis Cemetery at Batesville.  The family requests memorials to Our Hospice of Greensburg or St. Mary's Building Fund.  For online condolences go to www.weigelfh.com.