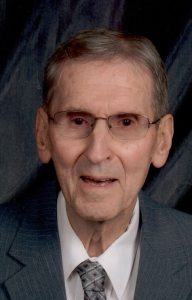 Roger W. Welage, 92, Greensburg, passed away at his home on August 2, 2022.
Roger was born on August 14, 1929, to the late Edward G. and Adelaide J. (Enxel) Welage. He was the sixth of nine children.
Roger graduated from Greensburg High School in 1947.  He served in the US Army from October 1951 to July 1953, of which 13 months was spent in Korea.  Roger worked for the U.S. Postal Service for over 30 years, where he retired as Assistant Postmaster. After his early retirement, he worked for himself as a house painter and later he worked at Scheidler Bros. Paint Store.
Roger married his loving wife of over 66 years, Mary Ann Scheidler on April 21, 1956. They had six children; Diane (Mike) Novak, Janet (Jeff) Dougan, Chris (Sandy) Welage, Dr. Tom (Jenni) Welage, all of Greensburg, Joe (Peggy) Welage, Greenfield, Rich (Annie) Welage, Vincennes; 20 grandchildren and 14 great grandchildren. Survivors also include one brother, Vincent P (Phyllis) Welage and many nieces and nephews.
In addition to his parents, he was preceded in death by seven siblings, Marie E. (Richard) Oliger, Edward B. (Maxine) Welage, Robert C. (June) Welage, Leonard E. (Dorothy) Welage, Mildred A. (Walter) Moeller, Marjorie J. (Wayman) Mahan, and Richard J. Welage.
Roger was a very active member of St. Mary's Catholic Church, which included 17 years in the Adult Choir and 7 years on the Adult Catechetical Team.  He was a longtime member of the Knights of Columbus and the American Legion. He volunteered for "Meals on Wheels" and Hospice. Roger enjoyed attending the many sporting events of his children and grandchildren. He also enjoyed singing and was a member of the Barbershop Harmony Society for 18 years.
Family and friends will gather at 3:30 p.m. on Friday at the funeral home to pray the rosary.   Visitation will follow until 7:00 p.m. at the Porter-Oliger-Pearson Funeral Home in Greensburg.   The family will also receive friends from 8:00 – 8:45 a.m. on Saturday with the funeral Mass to follow at 9:00 a.m. at the St. Mary's Catholic Church in Greensburg with Rev. John Meyer officiating. Interment with full military graveside honors will be held in the St. Mary's Catholic Cemetery in Greensburg. Memorials may be made to the St. Mary's Catholic Church or to the Our Hospice of South Central Indiana. Online condolences can be made to the family at www.popfuneralhome.com