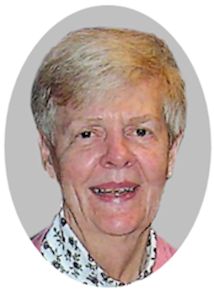 Surrounded by her loving family, Elizabeth J. (Betty Jo) Schaefer (nee Gutzwiller) age 89 of Batesville went home to be with our Lord and Savior on Monday, August 1st at St. Andrew's Health Campus. Born October 2, 1932 in Batesville, she was the daughter of Frank N. and Frances Gutzwiller. She married Alfred (Junior) Schaefer on October 25, 1952 at St. Louis Catholic Church in Batesville, Indiana and he preceded her in death on March 19, 2013 along with her son, Greg on November 4, 2021.
Betty Jo worked as a seamstress and later managed the laundry department at Margaret Mary Community Hospital for many years prior to retiring. She was a life-long member of St. Louis Catholic Church.
Known for her kindness and generosity, Betty Jo loved spending time with her family.  She was quite a homemaker always doing something. She crocheted many rugs and dishcloths for family and friends, or could be found sewing and mending clothes for her children or making clothes for the girls' dolls.  A large family vegetable garden was planted by Junior and she was canning and freezing the produce for later use (if it hadn't been shared with the neighbors or other family or friends).  She could make the sweetest jellies or grape juice from the grapes which came from the grape arbor just outside the back door.
One of her family passions was fishing, and she could filet the fish caught faster than her husband or brothers could.  She often would go to a favorite local pond with her sister and brother-in-law Hilda and Bess Bartling, or on a Sunday jaunt with the family in tow.
Another of her passions was baking.  Whenever one of the kids needed a bake sale item for school or scouts she would whip-up an awesome apple pie or batch of her renowned chocolate-chip cookies.  Her cookies were the most sought-after item at the family reunions and by neighbors and friends.
She will be sadly missed by her daughters Debra (Hoagy) Wright, and Jo Ann (Alan) Butt of Batesville; Kaye (Jed) Darby of Greensburg; Diane (Tom) Smith of Osgood and daughter-in-law, Jackie Schaefer of Batesville.  She is also survived by five grandchildren, Zach (Nikki) Butt, Emily Butt (Chris Landrum), Nick (Danielle) Butt, Christopher Powell, and Jessica (Brandon) Mize, and  great-grandchildren, Raelyn Stuart; Austin, Jeremy, Lexi, and Jaelyn Ebinger; Lexi, Eli and Livi Butt; Trent Stuart; Hailey Shaw and Emery Mize and sisters-in-law Marion Gutzwiller,  Ruth Schaefer and Rosemary Conrad and brother-in-law Lester Schaefer.  In addition to her parents, husband, and son, she was also preceded in death by her sisters Hilda Bartling and Frances Rose Gutzwiller and brothers Alfred, Martin, Frank T., Donald and Harold Gutzwiller.
Visitation is Monday, August 8th from 4 – 7 p.m. at the Weigel Funeral Home. Funeral services will be 10 a.m. Tuesday, August 9th at St. Louis Church with Rev. Stan Pondo officiating and burial to follow in the church cemetery. The family requests memorials to Margaret Mary Health Foundation Hospice or the Sylvester J. Bartling Scholarship Fund within the Ripley County Community Foundation.  For online condolences go to www.weigelfh.com.